Wicklow is a surprising county. It is only a few miles from Tallaght which is now the largest conurbation area in Ireland after Dublin, bigger than Cork, Limerick or anywhere else. This has all happened in the last 20 years or so. Yet Wicklow has some of the most beautiful unspoilt scenery in Ireland: the Wicklow Gap, the Sally Gap and the mountains that run the length of the county.
This year Aisling decided that we would visit this part of Ireland to give those from the east coast a chance to see their homeland. Of course this meant we could bring a few Dubliners with us, as we were within such a short drive of the capital. A few weeks before the trip we had asked some the Dubs in Arlington if they would like to go and we arranged a meeting in the house. Six turned up and most of them had not been home for many years. Des ruled himself out of the running early on saying that he had lost a lot of money on the gee-gees. 'There's no good me going back without at least 2 grand in me pocket'. Well, when was the last time you were home? 'Jaysus years ago, but it will be the same now. They'll all expect me to have a pocketful of money'. Why not just come for a holiday, everything is paid for. 'What would be the point in that? No, thanks all the same. Maybe next time if I can get a bit of a nest egg together…' And with that he was off. Sam said, 'I've only got £7 but count me in. If I leave it any longer I might never go back'. It was the same for Vincent, Peter, John and Alan…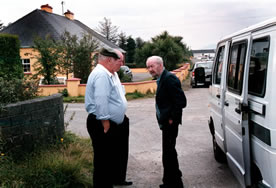 We booked 4 self-catering cottages in Blessington on the shores of the lake, which comfortably houses 20 of us from all over London. The cottages are part of a huge development of 30 houses. Anne the owner has plans to build 40 more which will make it the largest holiday development in the country. They are built to a high standard and are within a handy walk of the town. On the first day Donie and Steve went into the town to check out the bars and won 500 euros on a horse. Des should have come after all. Next morning the boys thought they had spent all the money but John had confiscated a couple of hundred during the night and let them have some now and then during the week. After the first few days everyone had become firm friends and we were in and out of each others houses and cooking for whoever turned up, whenever.
Michael is from Tipperary and although he came to Mayo with us a couple of years ago he had not been back to his home county for 20 years and, more importantly, he hadn't seen his brother in all that time either. The last time Michael was with us he was drinking at dangerous levels and his liver was severely damaged and doctors had given him only months to live, however he sang songs and kept everyone amused with his chat. Returning to London after that trip a concerted effort was made between Aisling, Arlington House and Michaels London-based brother to help him to recover. Eventually we got him into Kairos, a rehab in South-east London where Michael fully recovered from the booze. He hasn't had a drink since and has moved into a council flat in Hampstead. Hearing about Michael's story, Alex a researcher from the BBC got in contact with Michael and planned to make a film about his recovery. The central part of the film would be Michael's reunion with his long-lost brother Liam in Tipperary. We set out to try and locate Liam but it wasn't easy as he was always on the road traveling all over Ireland stopping at regular places on the way as the guest of priests and brothers, etc. One day Joe McGarry rang me from Limerick. Joe is one of our volunteers and he is currently setting up a hostel for street drinkers in Limerick. An alcohol worker had contacted Joe from Thurles enquiring about a job in the hostel and Joe had asked him, on the off chance, if he knew Liam. It turned out that he knew Liam well and a meeting was arranged for the Thursday we were in Ireland. It turned out that Liam collects his benefits at the post office in Thurles every Thursday, so Michael, Alex and Fay (camera operator/director) staked out the post office from 9.00am until Liam arrived at 12.00. When Liam arrived Michael went out to meet him and the women from the BBC waited in the car. Later they told me that they didn't think it could be Liam as he and Michael seemed to be talking as if they had met only the day before and were discussing the price of cattle or something equally mundane. Anyway Liam was happy to be filmed and the results can be seen on BBC London at 7.30 pm on 27 January. Michael has half brothers and sisters who he has recently made contact with, but Liam is his only living full relative and it was a big moment for the both of them, despite first impressions and they are now keeping in touch with each other. Michael also met some religious brothers who had taught him as a youth and they had kept a tape of Michael singing ballads in the showband style from 30 years ago. 'This is one for the poor men in Long Kesh prison who are missing their loved ones tonight…'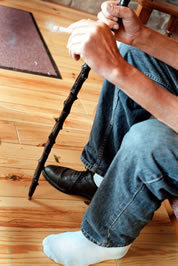 Peter had spent less happy times while in the care of the Brothers of St. John of God in Celbridge Co. Kildare and he decided to visit the home where he lived from 14 to 16 over 40 years ago. The Brothers live in a separate part of the grounds now and the place is run by the local health authority. When we arrived they were holding a tea dance for the last 50 or so residents and when we walked in Peter introduced himself to the care workers. They invited us all in and gave us tea in the sitting room and brought through some of the older residents. As they did Peter remembered the names of most of them and they remembered him straight away. It was very sad as the men who had been left had rarely gone beyond the walls of the home and had become so institutionalized over the later years that they had hardly developed beyond childhood. As we were leaving someone shouted out to Peter, 'You did a runner from the Bog of Allan' and Peter said to us later in the van, 'I had a lucky escape'. And escape he did. When Peter was 16 he was sent to work in the great peat bog as a labourer. After a month of working 16 hours a day cutting turf Peter asked for his wages and was told by the foreman that he wasn't to be paid, that the money went to the Brothers and that he would have to go back to Celbridge. He was put on a bus and Peter, fearing that he would never be left out again stayed on the bus to Dublin, hiding below the window as it went through Celbridge. In Dublin Peter decided he needed to get a job and asked at a factory for work. The owner showed him a picture in the Evening Press of Peter and an article asking anyone who saw him to contact the police and return him to Celbridge. The factory owner bought Peter a ticket for the ferry and train to London and gave him some money. Peter always knew that he had done the right thing – that he didn't deserve to be locked up just because his mother gave birth to him outside marriage. Now he had seen for himself what his life would have been like had he got off the bus that day in Celbridge.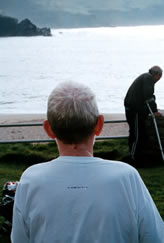 Later that evening we had organised some music in a pub in Hollywood. Paul, a friend of ours who had moved back to Ireland to run a hostel in Dublin is also a brilliant flute and whistle player and knows many musicians in and around Dublin. He had arranged to rendezvous with a few in Slatterys pub in Rathmines and John drove in to Dublin to pick them up and bring them out to Hollywood. When John arrived there were 16 musicians waiting and he drove the laden van out to the venue. Hollywood is a tiny village, belying its glamorous name, off the main road. The road goes in and the same road comes out, there are two pubs and a few houses and that's Hollywood. Amazingly though these are two of the best pubs in Ireland. The music began straight away and the pub was jumping in no time. The regular accordian player turned up and sat in corner playing his own repertoire oblivious to the session going on in the rest of the pub. That evening Peter was talking to Emer, the sister of Pat, one of our volunteers, about his experiences of the day and began to explain about how he had traced his mother in the 70's but she rejected him. She lived in a small village in the south of Wicklow and Peter was taken from her at birth. When he turned up on her doorstep all those years ago she was deeply shocked and ashamed. She made him promise never to come back. She had written to him from time to time but had stopped in recent years. Emer said to Peter that attitudes had changed in Ireland and he should go and see his mother again and give her another chance at reconciliation.
The next day John was driving to Carlow to pick up Lucy who was visiting her mother and Peter asked John to drive to his mothers home. They pulled up at a gate lodge cottage next to a mansion house. This was Peter's mother's home but it was boarded up. There was a row of terrace houses next door and Peter remembered the neighbour who he had met all those years ago and knocked on the door. As soon as Mrs. Hayes came to the door she recognised Peter. She said that they had been trying to contact him but they didn't know where he was. Peters mother had died a month before. As word got around some of Peters many cousins turned up to see him and commiserate with him and he learned all about the family he had never known. The last two days had been an emotional whirlwind for Peter and although he has lost his mother at least now he has a family who want to know him and he is planning to go back next summer for two weeks.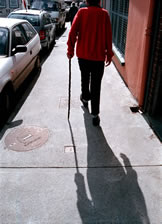 We spent a bit of time in Dublin as many of the returnees had lived in Dublin at some time while others were born and bred there. One day we stopped for a drink in the Brazen Head which is over 600 years old and Ireland's oldest pub. We parked around the back of the pub in a side street and as we were getting out of the van Sam had a puzzled look on his face, 'This place looks very familiar' he said. As we were walking around the corner Sam stopped a couple of young men and asked them did they know where Oliver Bond Street flats were. 'You're standing in them' they said. 'Never in the world' said Sam, 'I was born here'. Sam's family had moved out to Finglas many years before and although Sam had been out of touch for seventeen years he knew his mother and brothers were still there. He was very nervous about turning up after so long but one morning he decided he had to do it. Pauline has been working as an outreach worker with homeless people in Dublin for the last 6 months and on this trip she was volunteering with Aisling between shifts. She left Sam off in town on her way to work and arranged to pick him up later in Finglas. Pauline arrived in Finglas, following Sam directions but the pub he had mentioned was no longer there nor the hole in the wall beside it or any other landmarks from Sam's memory. After a while they found each other and Sam was in great spirits. All his fears had been confronted and proved unfounded and his family made him promise to come back for Christmas.
Vincent too went to stay with his sister in Dublin for a few days. He has serious respiratory problems, needing regular intakes of oxygen and his sister is housebound. This trip was their only chance of meeting as Vincent's respirator is too cumbersome for trains and planes. While in Dublin we toured the city as best we could, negotiating traffic jams. As Dublin has grown outwards with folks commuting from further afield so the centre has become even more dense with people. Tom was born in Capel Street which runs down to the quays in the north of the city. It is the same narrow meandering thoroughfare it always was but the shops are considerably more upmarket and Tom stood looking for a while at the building that once was his home and is now a stylish furniture store.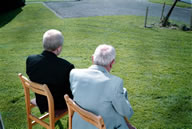 Tony has been through a rehab with the Kairos project in South-east London and is experiencing a new lease of life. Kairos, otherwise known as Father John's after the man who founded it, has a remarkable success rate, particularly with middle aged Irish men, for whom detoxes and rehabs rarely work. Kairos is an environment which seems to suit their needs and which provides them with the support and strength they need to turn their lives round. Others on this trip including Michael and Jim have also just been through the programme. Jim had finished the programme and while we were in Wicklow Pat contacted a hostel on his behalf and arranged a bed for him on his return to London. In the next few months we expect to be opening our own hostel in Tralee, Co. Kerry and some of our returnees to Wicklow are thinking of going back there to live. Tony and Donie are both natives of Kerry and are seriously considering returning to the Ailsing hostel when it opens. On the ferry coming home I spoke to Tony about it and he was a bit nervous. This had been his first time back in Ireland in over 20 years. 'It has changed a lot' Tony said. What about London Tony, I asked, has that changed too? 'God, London is unrecognizable. You wouldn't know it at all. There's hardly anyone left. You know what?' he said, 'I think I'll give this place in Tralee a go'.