Aisling were back in Mulranny again before Christmas '07
We were in Mulranny again for our pre-Christmas trip and it was great to be back but we were lucky to make it at all. There was torrential rain and howling winds all over the country and particularly on the Irish Sea. Before we left on the Friday evening we had called the ferry company several times to check if the ship was indeed sailing: we heard on the news that several sailings had been cancelled coming up to our departure date. They could not confirm sailing until we were picking up our last passengers in the car park at St. Agnes's church in Cricklewood before heading out onto the M1
There is no doubt that we had our guiding star looking after us. A truck was burning on the opposite carriage on the M56 as we passed and for mile after mile the traffic was tailing back with no hope of recovery imminent. As it was we had a smooth drive and calm sailing and we landed in Dublin on a still Saturday morning. Deirdre, one of Aisling's founders, newly returned to Ireland to work in the music biz, made breakfast for all 19 of us in her flat off Baggot Street. By the time we reached the west the weather had turned nasty again and we were lashed with rain and gales as we got out of the minibuses at Mulranny.
We learned later that all ferries before and after the one we took were cancelled. A week before the trip there was a storm out in the Atlantic that brought 50-foot waves crashing onto the west coast of Ireland. Surfers who were lucky enough or daft enough to get onto these giant waves for this once-a-lifetime opportunity will never forget it. Even the week we were there, when the winds had died down considerably it was much wilder than usual, which was saying something.
…but ran into a solid wall of air and ended up sprawled on my back…
On Sunday we drove out to Achill Island and the weather was spectacular. The conditions went from sunny to cloudy and from dry to torrential rain in the blink of an eye. We drove up to the Minaun Heights to get a view across Achill and look for a plaque which had been erected with the help of, friend of Aisling, Mossie Lyons in memory of a young emigrant from Achill who died in London. We parked by the radio mast and John tried to open the front passenger door but couldn't seem to move it. Maybe something was wrong with the lock. I jumped out of the driver's door and tried to get around the front of the minibus but ran into a solid wall of air and ended up sprawled on my back. We had driven up the mountain in the lee of the wind and as the van was full of people and well weighed down we managed not to notice the power of the wind until then. We had to give up our search for the memorial.
Later on the Atlantic drive we stopped off just through the mountain pass behind Minaun where the waves were crashing on the rocks and foam was falling like snow on the smooth lawns of grass mown by the sheep. It was incredible to witness such power. Later in Keem Bay at the end of the Island we were once again sheltered by the surrounding mountains and the sun was shining. It was like a calm spring day until we were on our way back over the high ground when we were buffeted around on the winding cliff roads. We stopped for a drink at Patten's pub near the famine graveyard and chatted with the locals. Even they felt the weather was a bit much and none of the fishermen had been out for days. Peter got talking to a man in an Aran jumper with a ruddy face, looking like one of the fishermen, who turned out to be from Dublin. He came to Achill on holiday over 20 years ago and never went back. He told us without our asking, about the lad who had died in London and how the locals and the Irish community in London got together to set up the plaque on Minaun Heights in recognition of all those emigrants who had died abroad.
We have become good friends with the Mulranny locals over the years and on the afternoon after we arrived I called into Docherty's supermarket to buy food for an evening meal. We already had a delivery of essentials courtesy of Jerry Cowley, local doctor, ex-TD and all-round great guy and his wife Theresa. Also on the way to Mulranny we stopped off to collect our week's supply of meat from our benefactor, Ballina butcher Peter Quinn. Walking into the shop I met Mary one of the Docherty's who welcomed us to Mulranny. I know a cousin of Mary's in London and Mary told me that her cousin's husband Maurice was seriously ill and may not last the night. It was strange to arrive in the west of Ireland and receive news (bad news) from London. I learned later after ringing home that Maurice had rallied after the priest had visited his bedside that evening. Later again I found out that he had died a couple of weeks later on Christmas Eve.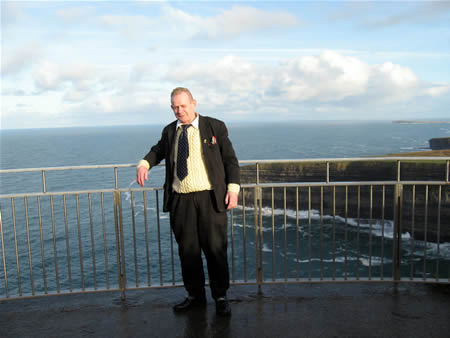 I got to thinking then about how Maurice had been actively involved with the London Irish Network, through which he and his wife had met, and had organised events to raise money for Aisling. I told Mary about how at a pub quiz fundraiser organised by Maurice our own Aisling team were in the final against a very experienced team of noted London quiz players. We had a secret weapon, one John McDonnell (no relation) who was the current Brain of London title holder and the final went to three tie breaks which we won (or at least John did) on a pure guess. The gallant losers donated their prize money to Aisling anyway in the end.
Jerry, as always put together a Christmas party in the village hall with us as guests of honour. Of the 14 clients only two had been to Mulranny with us before and had any idea of what to expect. So when we entered the hall and the whole place, including the local people, the folk from the care home and the staff rose to applaud us, they could not believe the reception and were pretty much overwhelmed for the rest of the day. The hall was laid out with trestle tables and we all sat down to Christmas dinner, which the staff from St. Brendan's village served up to us. After dinner the tables were cleared and the Molloy brothers, local musicians and no strangers to the emigrant circuit in London, played and, those of us not too tired or too shy, danced, thanks to the local ladies who were far from shy. Jerry and Theresa presented us with scarves, hats and socks, very welcome in that wild wind too.
That evening in Docherty's the party resumed. Sheila was behind the bar and welcomed us all home to Mulranny. The Molloy brother's arrived with more musicians and a singing session ensued with few contributions from us although Eilish saved our embarrassment with several unusual Dublin airs and one of the returning women from St. Brendan's sang sad songs of loss and emigration in a lovely lilting voice. Even Jerry sang the miners song and the Yellow Submarine which are his party pieces. I must learn a few songs all the way through myself or at least a couple of verses, however croaky the voice.
We took James back to see his 97 year-old mother in Crosmolina, driving over Nephin, the mountain lakes sparkling in the sunshine….
As usual we had some long distance trips to do to get some of our people home to their families. We went as far as Sligo for Patrick so that he could stay in his hometown for a few days. The last time he came with us he had a miserable time with his brother who made it clear he didn't want him around. On top of that his daughter appeared when he was waiting for us to pick him up and gave him terrible abuse. This time his sister who is a nun arranged for accommodation in a hostel and he had a frugal but happier time. We took Gerry to Donegal another time where he stayed with his brother for a few days for the first time in many years. On the night before Gerry got pretty drunk in Docherty's and when we went down to collect him he reared up and cursed us in the street. He was feeling the pressure of going home and it took Shay hours to get him back home to the cottage. On the way back from Donegal Charlie, Shay and a few others from the gang called to Shays family in Ballyshannon where they were served up the best sandwiches in Ireland. That is official, as Shays mam and dad had at one time had a sandwich shop in Dublin where they had earned that very boast.
We took James back to see his 97 year-old mother in Crosmolina, driving over Nephin, the mountain lakes sparkling in the sunshine. James's mother and sister were there to welcome him in the little cottage on the outskirts of town with the range going full blast in the kitchen. His mother looked amazingly well for her advanced age and she was delighted to see her son back, completely sober for the first time since he left. Both James and Michael from Arlington House had gone off the drink under doctor's orders over six months before the trip and had kept the local shops in business with their heroic consumption of Lucozade. Later after we returned from the trip, just after New Year, we got a shock when James got word that his mother had died. John went to visit him in Arlington House to arrange a flight for him to go back to Mayo for the funeral. He called the home in Crosmolina to speak to James's sister who told him that the mother was not well but that she was very much alive. James insisted on going anyway and he got a flight out the next day. A week later he came back – he'd arrived back in the nick of time as his mother died a day later.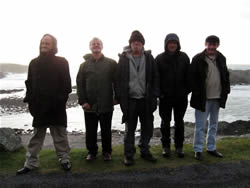 The cottages we usually stay in are on the side of a hill overlooking Clew Bay. They have huge picture windows and we sit most days looking out over the bay watching the clouds scudding across the sky landing on Croagh Patrick and blowing away again. It is a constant source of wonder and calm. The sea often plays tricks on the eye as boats become sea monsters which become, more mundanely, sand bars and rocks, but this keeps us enthralled for most of the day without having to put the telly on. However one evening while watching the Channel 4 news to catch up with what was happening over the water, a 3-minute wonder following the news came on which was about Cricklewood Homeless Centre. We caught a glimpse of John and then Paul, who was with us and several other past Aisling clients and Debbie one of our one-time volunteers.
Eilish has a brother who bought a holiday home in Mulranny and she was musing over where it might be and decided to give him a call in Dublin only to him to find out that the cottage was next door to the one she was staying in. It seems that many of the cottages are being sold off as they reach their eight years tax free limit and we may be lucky to find enough vacant ones to return to next year. Some of the cottages were occupied by a group of young people who seemed to keep very strange hours as young folk will from time to time. I reckoned they were working at the nearby hotel or partying all night long.
We have a recurring problem with one of our minibuses whose battery loses power when the doors are left open too long, which happens occasionally when Peter is cleaning the minibuses at six in the morning. I sometimes forget to go out to give it a run and end up having to jump start it. On the day John went to Sligo I was left with this problem and couldn't start the minibus so I banged on the door of the young folks house to ask if they could give us a jump start from their car. After a few minutes a very blearey-eyed young man came to the door and tried to get us going with the jump leads from his battery, it was too far gone and so he helped us push it to get it going. The poor guy was knackered and I presumed severely hung over. But no, it seemed they were all from Achill Island and were involved in a nature conservancy project, working in shifts observing the animal life on the island. I thanked him for jumping the van and apologised for jumping to wrong conclusions and parked on the hill for the rest of the week.
As part of the renovations of the old Great Southern Hotel which is now the Park Inn some of the paths to the strand have been cleared and it is a wee bit more accessible from the road. When the tide is out you can walk for miles over the strand and when it is in you can get to the harbour along a causeway, which is being restored to its glory days before the grand hotel went into decline. It's a great place to walk and let the power of nature blast the city out of your system.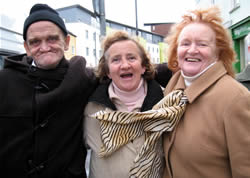 During the week we took a detour to Knock airport to use the toilets. Joseph went on a shopping spree at Penneys in Castlebar and he met up with his sisters there who had driven up from Offally for the day. We explored Grainuaille's castle. We went out to the Ceidhe Fields, the first known cultivated fields in Europe, out on the wild Atlantic shore. We stopped at the musical bridge to run rocks across the parapet stones to play the tunes of our magical forefathers. John got a call from someone at home trying to trace her brother, who she had not seen in 40 years: John knew him and arranged a meeting for when we returned. Each house had someone who discovered a long lost talent for cooking and cleaning and we ate mountains of free meat and still had some left for sandwiches on the way home. Our guiding star returned to lead us home and was there in the sky over Dublin all the way to the ferry. We found out later that it was a newly discovered comet. We made it back in record time on the catamaran from Dublin to Holyhead through the eye of the storm which closed again after our passing.