Alex McDonnell and John Glynn fulfilled an ambition of Aisling this year and took a group of long-time drinkers recovering from years of alcohol use back to Wexford for a week-long, totally alcohol-free, holiday. Alex reports on a difficult trip that highlighted several important issues.
I thought it was going to be easy bringing a group of non drinking returnees on a holiday to Ireland. I mean, how difficult could it be? I was thinking that this was going to be a doddle and we would get to have a relaxing time by the sea-side without a care in the world, compared to the emotional roller-coaster we are usually on with Aisling. However, it was in some ways, one of the most challenging trips we have made for a long time.
The members of the group were fine, all were reasonably healthy and they had been dry for several months and some for years. Many of them knew each other and some were firm friends to start with. Some members of the group had been clients of Aisling for some time. They had been on previous trips and were now in a position to see Ireland sober. It was an exciting prospect for them and for me and John too.
There were seven Aisling clients from previous trips, myself and John plus ten from the Kairos community project in South-east London, which has for years been one of the most successful drug and alcohol rehab projects in the country. For some reason Kairos has been consistently successful with older Irish drinkers. The kind of client who often finds it difficult to cope with the usual detox and rehab regime can thrive in the Kairos environment. I think it may be to do with the very real caring attitude of the staff at Kairos. They are also tough and realistic about what can be achieved and we have been fortunate to have access to Kairos because otherwise many of our clients would still be drowning in alcohol or dead by now.
…otherwise many of our clients would still be drowning in alcohol or dead by now.
It shows how far Aisling has come that we were now organising alcohol-free holidays. We made bookings at some holiday cottages at Aughrim in Co. Wicklow months ago but the day before we were due to head off we got a call from Irish Ferries, who had handled the booking, only to tell us that the cottages were double booked and asked if we would consider an alternative in Wexford? Luckily we were sailing to Rosslare, so it all turned out for the best as we had only an hour or so drive to the cottages in Courtown.
Courtown is quiet enough in October but it is packed with Dubliners all through the summer and it is obvious that this is changing the landscape of the town, with thousands of holiday homes having sprung up there in recent years. The cottages that we were booked into were a group of 73 houses laid out in a modern suburban style. The houses were fine but the place itself was a bit soulless and we were virtually the only visitors that week. All along the side of the roads going south and north from Courtown are similar estates of holiday homes. On the seaward side of the road were the old holiday homes that had been there for the best part of a century. They are tidy little shacks made out of timber and ash felt, which seem to have grown organically on the sand dunes above the sea and below the road. These must be owned by folk who spent all their summers here and they have a simple charm pretty much missing from the new tax incentive commercial holiday lets that have mushroomed here in recent years. On the other side of the dunes are some of the finest beaches in Ireland, in some places, further from town, stretching for many unbroken miles with hardly a dwelling visible.
Curracloe beach, a twenty mile drive from Courtown is a magnificent stretch of sheer unspoilt beauty. The new name of the local pub, The Omaha Beach, on the corner of the lane down to the beach from the main road, gives a clue to the areas proud boast as the location for the spectacular war film 'Saving Private Ryan'. The long bloody opening scene of the D-Day landings was shot here and you can see how it was chosen as there are no tell-tale clues to let you know that you are in the 21st century and hardly anyone to witness thousands of Americans playing soldiers.
However a beach, no matter how impressive is not much of a destination if the weather is no good, but we were blessed with some of the finest October weather ever witnessed in Ireland. Over our years travelling around Ireland, we have had one or two rainy trips and a couple of cold ones in December but by and large we have been generally very lucky with the weather. This was exceptional, the sun shone all day every day and in the middle of the day it was in the 30's a lot of the time and so everything was in place for a grand holiday.
Those in the group who were previous clients of Aisling were back in Ireland for the first time sober and to see them enjoying the scenery, relaxing and strolling on the beach was something to behold. The group from Kairos were quite subdued at first and it took them a while to relax and enjoy the simple pleasures on offer in Wexford. Mossie, the manager of Kairos was an old friend of Aisling and had volunteered on one of our first trips when we went to Youghal in Co. Cork and has been a great contact ever since as many of our clients have used the Kairos service over the ten intervening years.
…back in Ireland for the first time sober and to see them enjoying the scenery, relaxing and strolling on the beach was something to behold.
Mossie had to leave the trip early due to work commitments in London and we left him off in Dublin to catch his flight. While we were there we decided to do a sightseeing tour of the city. Most of the group had at one time or another been in Dublin even if only to catch the ferry to England and we were curious to see how they would take to the new modern city. It was lunch time when we landed and so we went to a pub nearby to where we parked for some soup and sandwiches. We had the soup but after half an hours wait we had to give up on the sandwiches, which for some reason never came.
We planned a route that took us through the new tourist area of Temple Bar over the Ha'penny Bridge, along the river to O'Connell Street and over the bridge there, and then up past the central bank to Trinity College, where we went in to see the Book of Kells. Only six of us went in to see the book in the end but the rest seemed happy to hang out in the sunshine with the cream of Ireland's inteligencia. We then walked up Grafton Street, with all the buskers and shoppers and into St. Stephen's Green and eventually back to the minibuses. We visited Deirdre, a friend of Aisling from the early days, and later Brendan dropped of some hair products at his cousin's barber shop, and then we got on the road for home.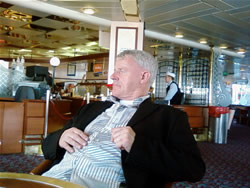 We decided to drive along the quays so that Patsy could see the area where he was born and which he hadn't seen since 1966. The traffic was bad and even turning onto the quays from Westmorland Street was a chore and took ages but we reckoned it was just the pressure of traffic at that point and it would get better. Unfortunately it got worse as we crawled out to the Naas Road in a never-ending traffic jam. We felt certain that there had to be some major road works or at least an accident, but no. It seems that this was normal according to the traffic reports or even, as we were assured by the radio, flowing better than usual. Our minibus was dropping Terry in Naas and it took us three-and-a-half hours to get there – the town used to be famously only an hour from Dublin. The other minibus didn't fare much better taking the direct route. We only had to do it once but thousands of commuters face this madness every morning and evening and it's enough to cause problems in the strongest of relationships.