Alex McDonnell reports on this year's Aisling summer trip.
Aisling began with a conversation between friends working with long-term Irish emigrants. We recognised that there was a hidden army of Irish people who had lost contact with home and were suffering loneliness, isolation and trauma as a result. Our big idea was to bring a group home to Ireland for a holiday. The very first Aisling trip was in September 1994 when we went to Kerry as guests of the Kerry Emigrant Support Group. The following year we were in Bundoran in Donegal. On these early trips we were learning on the job, taking people that we had known from the different places we worked.
We would take people straight out of drinking rooms in hostels and off the streets. At that time the work was all voluntary and we had little time for preparation. Today, we have three trained professional staff, including a coordinator, an outreach worker and an alcohol worker. And we can prepare people well in advance of the trip and carry out detailed assessments. For months before a trip we are working with clients, on their health, housing, alcohol etc. or contacting relatives. However, sometimes it still doesn't always work out as planned…
We were going to Tipperary for the first time in the 13 years of Aisling's history and we had a few Tipp folk looking forward to the trip but by the time we headed off there were fewer from Tipperary far away and more from other parts of Ireland. But that's the way it works out sometimes. Tipperary was a good choice though because you can get almost anywhere in Ireland from there in a few hours and we travel a great deal.
Whenever possible these days we catch the ferry from Pembroke or Fishguard in South Wales to Rosslare. The route is prettier and a bit shorter than the long haul to Holyhead. It can be a bit stressful heading to North Wales, racing for a ferry through road works on the M1 scheduled for the next two years and phantom road works appearing on the M6 around Birmingham just before the start of the toll road. Funnily enough just out side Pembroke where we had stopped for diesel, a bloke who was heading for the ferry using his sat-nav device asked us if he was on the right road for Holyhead.
It's great not to have to negotiate Dublin traffic and arrive into Rosslare and be able to drive straight out onto country roads, passing by Waterford, Cahir, Cashel, Clonmel… Just outside Clonmel is the Ould Barne pub which serves breakfast at 9.00am. We arrived in the car park as they were opening for business and 20 of us were tucking into the full Irish in no time. It's some drive from London, and the ferries, as good as they are these days, are still not the best place to spend the night, particularly if you are trying to avoid the bar. It's traditional and also understandable that emigrants going or returning try to get legless on the boat and many a homecoming has been ruined that way. Luckily no such thing happened and we had an uneventful crossing. Mind you I was asleep in my cabin for the most of it, a privilege given to the drivers in the group.
After breakfast we kept going west and north through Thurles and Nenagh to Puckane. Puckane is a tidy little village of traditional cottages with two pubs and a shop, near to Lough Derg. We had six of the lovely thatched cottages, which are circled around a village green, for the week. They are were in an old-fashioned style, with open fires and half doors, like the sort of cottage most of the returnees would have remembered from their youth. Jean and Tony manage the properties and they were almost ready for us when we arrived and so we quickly got organised into our respective houses. As there were three women clients and Charlie Conquest, Aisling outreach worker, was the only woman worker, one house was organised around gender lines. We also had a "dry house" [no alcohol], a couple of "wet" houses and two "damp" ones. Everyone was tired and a few went straight to bed while others went down to McGrath's pub.
We were told by Jean that McGrath's (50 metres away) was the young person's pub while the nearer one, Kennedy's (10 metres) catered more for an older client group. By 'young persons' I expected maybe people in their 20's but walking in that afternoon to watch the Manchester football derby on their telly we were bowled over by 7-12 year old children wielding hurleys and camogie sticks. It was a bit of a shock after the privations of the road. But we got used to it and had an enjoyable couple of hours relaxing and watching the game with the door banging as future Gaelic games stars whizzed in and out of the pub. Tipperary were playing in the minor hurling final the next day and things were looking good for the county's sporting future. We went back to McGrath's to watch the match on Sunday and Kilkenny unsurprisingly won the seniors but Tipperary came through in the minor match.
Each morning, after breakfast, the six workers met in one or other of the houses to organise the day. Our priorities were the homecomings we hoped to happen during the week but it was good to keep in touch and talk about the events of the previous day and other plans we had for day trips, shopping etc. Myself, John Glynn and Charlie are the full time workers with Aisling and we had a house each. The other three houses were managed by Aonghus, our voluntary secretary, who is from Tipperary (but South Tipperary, which is a closed book to North Tipperary and vice versa. They even have separate car license plates), Brendan from Dublin, who has worked with us over the years and has worked with the client group for many more and Mattia, who works in Arlington House and is from Naples. This was Mattia's first time in Ireland and I was curious about his impressions of the country and was a bit disappointed when he said that he saw no difference between Ireland and England.
Maybe the differences are less profound to outsiders particularly those from southern Europe and further afield where the terrain, weather and culture are so obviously different. They must think the subtle differences we see as so important are small indeed. For me though there are still major differences in our ways of life but mostly in the scale of things. Ireland for the most part, at least outside of Dublin, is built on a small scale whereas England has been urbanised to a great extent. Wandering around Ireland these days you often find yourself thinking of the eastern Europeans and what Ireland is like through their eyes. On the face of it there is little integration, they are economic migrants hoping to make money to send home or take home when they return. But will they get stuck as so many of the Irish emigrants we work with have? With the years stacking up, the longer away from home, the harder it is to return and the deeper the psychology of fear and shame takes over. I guess time will tell.
We had a few with us on this trip who hadn't been home for many long years, who fell into the trap of putting it off for too long, with the way back getting harder by the day. Sean is from Donegal and he didn't want to go on our Donegal trip this time around, in fact he was happy to be as far away from home as possible for now. The main thing with Sean was keeping his alcohol consumption stable. In terms of new ways to damage the body through alcohol there is a new kid on the block these days, it is called cider but has probably never seen an apple. It is very cheap and comes in two litre flagons for about the price of a pint in the pub, it's around 10% strength and is a clear liquid. There are a few brands out there but it is all pretty much the same stuff and it always has 'white' in the name eg. White Ace, White Lightening, White Death etc. Like so many others, Sean drinks this stuff every day in England.
The same products aren't available in Ireland as the duty levied on alcohol there is related to the strength of the drink and therefore there is no beer or cider sold which is more than 6%. The highly charged super drinks in the UK are marketed at the poor and marginalised and are sold at rock bottom prices. Their overheads must be pretty low to sell the stuff so cheap, ie no brewing process, no raw materials, just chemicals mixed with water and stirred around in a vat. It would make no economic sense to the companies producing the stuff though if the government were to charge huge amounts of tax based on the high strength of the product as their target group of consumers have little or no money. However there are distinct pockets of street-drinkers in Ireland. On the way into Nenagh there is a little park and we were surprised to find a couple of dozen in there drinking, male and female and possibly eastern Europeans too. As it is we found when travelling around and looking for somewhere to stop during the day for lunch or a break that many of the country pubs are closed. Due I suppose to changes in drinking and social habits brought on by tougher drink driving laws and the cigarette ban as well as the major credit squeeze, high housing costs etc.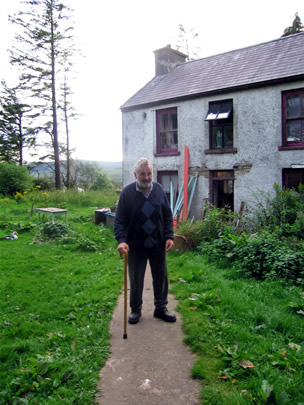 Sean had to make do with lower strength drinks in Ireland and was feeling the effects of withdrawal for the first day or two, but not dangerously so. He was sweating and shaking a bit but was otherwise fine. A day or two into the holiday Sean was eating plenty and drinking cans of Guinness. Frank also is a chronic drinker of Special Brew back in England and is drunk most of the time. We expected a challenging time with Frank too as the major concern in his life is looking for his next drink. He drank Guinness for the week and sat outside the cottage most of the day reading the Irish Times from cover to cover, something he never did at home, with the strong drink affecting his brain I guess it was hard to concentrate.
Lough Derg stretches out between Tipperary and Clare and is a bout 5 kilometres across at the widest part which is the nearest point to Pukane only a fifteen minute walk down lanes filled with ripe blackberries and sloes. On our second day we drove to the crossing point at Balina and crossed over to Killaloo on the Clare side. We asked the woman in the tourist office just over the bridge if there was a boat trip on the lough leaving soon to be told that the only one that day was about to leave from the other side of the bridge. She rang to ask the boat crew to wait for more passengers and we made it over in time. As it turned out they were glad to wait as business had been slow with the poor weather all through the summer. This particular day was roasting hot and they had a good crowd on board but were glad of another twelve. Maybe it was the weather that made it so idyllic but we had a grand couple of hours touring up the lough, even with Brendan Grace supplying the recorded commentary and a few naff tunes. They even had a bar.
There is some great scenery all around the area and the lough is spectacular, while driving you can catch a glimpse of it now and then coming around a bend or between trees and it can take your breath away. There are some amazing old historic buildings to be seen too, round towers and ruined castles appearing and disappearing. We passed a sign one day for —— castle, not far from Birr in Co. Offaly and we turned back to have a look. It was hidden away down overgrown boreens in a field next to an abandoned manor house. We couldn't believe how well preserved the castle was and although it must have been over a thousand years old at least and it had no roof, all the rooms and staircases were intact as well as lots of the stone features, mullioned windows and gargoyles included. It could have been sacked and abandoned a couple of years ago. As we were getting back into the minibus we looked back at the castle and saw Aonghus up on the top of the battlements like Brian Boru chasing away the Danes. Other old castles in the area include —— castle, which is still lived in by the same family since it was built in the 12th century. They do guided tours but were only open during the summer period.
I like that about Ireland: that an obscure sign can lead you down a farm track to a wonderful, forgotten-to-the-rest-of-the-world, piece of history. I was reminded of the last trip to Donegal we did in May (which went unreported here for one reason or another). Myself and John and a couple of the lads were on our way to explore the passage graves in Carrowekeel in Sligo and got a bit lost past Riverstown. We stopped on the side of the road to look at the map and found that we were at a place called Heapstown. Funny name, we thought and I looked around at where we were parked in front of a small cottage, next to some very old iron gates. My mouth fell open at what I saw, 'John, lads, you've got to look at this'. Behind the cottage was a huge heap of stones (hence the name of the area), dwarfing the house. It rose up behind the cottage like one of the Egyptian pyramids to a point in the sky above some trees. We got out and walked around the heap which was made up of almost round football-sized stones all exactly the same size and all made of the same stone. I don't know if it is local stone but wherever it came from there is a hell of a lot of it and somewhere under it there is a tomb. He must have been a hell of a bloke.
Just past the heap we asked directions to Carrowkeel of an old man outside the local shop/pub. For some reason John asked him if he was a musician ('because he looked like one' John said later). He said that he was and if we were passing any evening he would get his fiddle out in the pub and play a session for us. He pointed us in the direction of Carrowkeel across the Sligo/Dublin road which he described in tones of awe and dread as if it was some ancient monster. As it happened, it took us several minutes to cross the very busy road. Funny place Heapstown and I can't wait to go back for that session. It was too far from Tipperary to visit this time but other places that looked closer on the map were somehow much further in practice.