Alex McDonnell is the coordinator of the Aisling Return to Ireland Project. In September 2002, Alex travelled with 30 long-term disadvantaged and homeless Irish migrants went to Ventry in Co. Kerry for a one-week rehabilitative break. This is his account of that trip.
'I don't think I'll bother', said John, standing in the doorway of Our Lady of Hal Catholic church on Arlington Rd, just down from Arlington House where the Aisling project began. Aisling were taking a group to Kerry and wanted John to come with us. John had a room in Arlington but he didn't live there, spending most of his time sitting in the back of the church. About a year ago the Contact and Assessment Team (homeless outreach service) had referred him to the hostel and he was booked in but he never settled, feeling intimidated in the massive gothic building. He had lived out in the open air on Hampstead Heath for the last 20 years and only came to the attention of the CAT people because he had a bad accident and had been taken to the Royal Free hospital. John collected his pension each week in Whitechapel, walking down from his skipper on the heath. The place where he slept was enclosed by a high fence and John had to climb over it to get out. This particular morning John managed to get up on the fence but then he lost his balance and fell catching his foot between the top of the fence posts and hung upended from a broken ankle for hours, John says it could have been days as he slipped in and out of consciousness. Eventually a jogger found him and phoned for an ambulance. …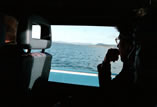 In the year that I had known John he had seemed withdrawn and uncommunicative and I had not held out much hope for us getting him onto the minibus that morning. As we were talking to John, trying to reassure him about the trip, mass finished and the parishioners started spilling out onto the pavement. One of them was an Irish woman who obviously knew John well and began talking to him. We told her who we were and that we wanted to take John to Ireland on holiday. At this time Fr. Dominic appeared and between them they persuaded John to climb onto the minibus. In the meantime Pat had nipped off to the off-license to buy a couple bottles of sherry which did no harm in persuading him either. Of course he was nervous about going back, it had been 37 years since John had been in Ireland and for others it was equally or almost as long. We collected 30 people altogether in our three minibuses, including seven care workers, from Camden and Cricklewood and headed for the ferry in Swansea. We picked up a hitcher at Cricklewood. Brian had been trying to make a go of it in London, hoping to raise some money to take home to his family. After three months he had had enough and after talking to the lads in Cricklewood he decided to go back to Cork before it was too late.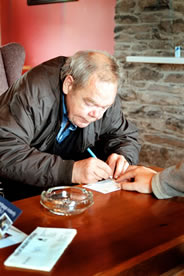 Ireland, to its lost generation of emigrants can seem a long way off. At a time when people are in constant contact with mobile phones, texts, faxes, e-mails etc. and grandmothers regularly travel from here to Australia to visit their grandchildren, it can seem weird that folk still can't manage the short distance across the Irish Sea to visit their loved ones. Well, once you have travelled from Swansea to Cork on the ferry it can seem as far away as Australia. It is a ten hour crossing and you are advised to arrive two hours early. We managed to get to Swansea an hour before sailing, after a few mishaps, but it is always difficult to settle people on the journey over and as the sea was a bit rough and our cabin bookings had not materialised we spent an uncomfortable 10 hours at sea and were less than refreshed in the morning. A stop for breakfast at the Ringaskiddy House undid some of the damage and our three minibuses with 30 expectant passengers set off over the Cork and Kerry mountains singing 'Whisky in the Jar'.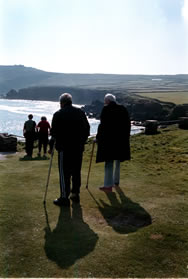 Ventry, our final destination is a tiny village four miles out on Slea Head drive from Dingle. The holiday homes are in a group of ten traditional style cottages located on the side of a hill overlooking Dingle bay and Ventry strand, we have six. Each house is allocated according to need, eg. we have one dry house where the occupants don't drink or are recovering from alcohol dependency; there is one women's house; one at the bottom of the hill nearest to the gate with wheelchair access which is used for those with mobility problems. The other three houses are allocated according to those who get on well together. There is a member of staff in each house.
Ventry is a townland with two centres separated by about a mile of narrow road bordered by high fuschia hedges. At our end there is a pub (the Ventry Inn) and a post office/village store and at the other end there is also a pub (Paidi O'Shea's) and a village store. Otherwise there are a few cottages and the caravans on the strand. We arrived at the end of the summer season and thankfully the huge tour buses were nowhere to be seen and most of the trade in the pubs and shops was local. Most of our returnees were from Kerry, Cork or neighbouring counties and had no trouble settling into the beautiful surroundings.
From the first day Michael found a spot to call his own at the Ventry Inn, on a bench in the sunshine outside the pub looking out across the strand. And there he remained drinking Guinness from eleven in the morning till late in the evening. As he was used to drinking cans of dangerously strong lagers on the streets of Camden this was an enormously pleasurable alternative for Michael, as well as a successful harm reduction exercise. Several times we tried to get Michael to come with us on our frequent excursions. One time John pulled up in front of him by the bench and when asked would he like to hop in the van and go for a drive, Michael declined, looking at his newly arrived pint and said, 'It's hard to leave the one you love.' On another occasion I stopped across the road from the pub where Michael was leaning on the wall opposite. He wasn't looking too good and said that he'd had twelve pints over in the pub. So I suggested that he get in the van and I would take him for a drive or back to the cottage. He looked up at me with a pained expression on his face, 'I can't, I have to go back over there,' he nodded towards the Ventry Inn as if he was being forced to do more penance. That night Michael was sick during the night but he managed to keep up his daily vigil throughout the week (although reducing his intake as the Guinness was a bit rich for his stomach, used as it was to the chemical brews in England).