Four times a year Aisling Return To Ireland takes a group of long-term emigrants home to Ireland for a week-long rehabilitative break. This year Aisling's summer trip was to Waterford. Alex McDonnell writes of the homecomings and reunions.
It is good to be able to put a story to bed. Last summer we reported on our website about a visit we made to Schull in Co Cork and the journey we made while we were there to Killarney, on the trail of the family of Patsy. Patsy is one of our long-term contacts and a perfect example of a man out of time and out of sorts, lost within Arlington House and without his family and home.
Last year we walked into Patsy's cousin's pub in Killarney and set a ball rolling which resulted in Patsy's twin brothers in America contacting him in Arlington House, and finally, in Patsy returning to Ireland this year and meeting one of his brothers in their hometown in north Kerry.
In between was a lot of soul searching for Patsy, and gut-wrenching confrontations with his demons, as well as conscience wrestling for those of us around him, as we tried to do what we thought was best. How can you have the arrogance to assume that you know what is best for another human being? How can you ride rough-shod over their expressed wishes to hide away from their family? Why not let them eke out an anonymous existence in a bare room in a hostel if that is what they wish? Well, sometimes you have to do something. Each time Patsy's brothers in America or his cousin in Killarney contacted the hostel, Patsy would refuse to speak to them. Each time Sally, Patsy's care worker, or myself would take the call if we were around and fill them in on Patsy's health etc. and then try to persuade Patsy to take the call. Patsy would have none of it, according to him he was useless and nobody would want to talk to the likes of him.
Around this time Patsy's health started to deteriorate and eventually he fell and injured his arm. He had virtually stopped eating, relying for sustenance on cans of super strong beer and as he grew weaker he was unable to carry his own meagre weight. After refusing intervention from workers, doctors and ambulance crews he lost consciousness and was taken to hospital. Sally made sure he had no clothes with him after admission and advised the staff not to give him pyjamas, knowing that Patsy's pride would stop him legging it in a hospital gown open at the back. We contacted the brothers in America and Liam decided this was the time to make a visit while Patsy was unable to refuse to see him, captive as he was on the hospital ward.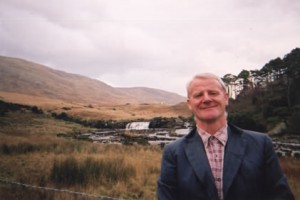 While in hospital, Patsy began to make remarkable recovery, eating every meal that was given to him and snacks in between. He was able to detox from alcohol for the first time in many years and started to regain his mental faculties and sense of humour. By the time Liam and his wife Josie arrived from America he was as good as he was ever going to be. After the initial shock he greeted Liam with delight and they spent a happy week together by the hospital bed getting to know each other again after forty years. After his discharge from hospital Patsy returned to Arlington House where he continued to remain positive and healthy for a few weeks, but eventually he lost the battle with the bottle once more and started drinking and not eating in the same old cycle. He stopped looking forward to his imminent return to Ireland with Aisling and began to beat himself up again, thinking negative thoughts about his lack of worth compared to the days when he was carried through his hometown on his team mates shoulders after winning the county hurling championship. Sure he was nothing now, why would anyone want to know him? He was refusing food again and wasting away. Would we ever gat him back to Ireland? It had been forty years. Maybe it was too long for Patsy. The fear and low self-esteem were maybe too much. Sally wouldn't give up however, and when I arrived at Arlington House on the Friday evening with the minibus and began loading up with the men and their luggage Patsy appeared dressed in a clean suit, shirt and tie, his bag packed, looking a bit nervous but with his jaw thrust out and resolute, ready to take on his demons.
Among the other Arlington returnees was Alan, who you can see on our logo looking out to sea, as is fitting for a descendant of Grainnuaile O'Malley, notorious pirate chieftain of the west of Ireland. Alan had been on a previous trip to Wexford, where he was visited by his brother Donald, a priest in the county. Donald died a month before our holiday and Alan returned with us for the month of mind reunion, which was to be held in Ballyhack, across the estuary from Passage, a short journey from where we were staying in Dunmore East. After Donald died Alan was the last of his father's side of the family, but there was a great gathering of O'Malleys from his mothers side and Grace, named after her piratical descendant, who had long been in touch with Alan in London, came to pick Alan up from the holiday homes we had rented, late in the week of our stay.
By this time Alan was well relaxed and had slowed right down on the drink. At home in London Alan would drink strong lagers, as much as he could get into him, but in Ireland he would be happy with a few cans or pints of Guinness. He would have no ill effects from withdrawal except on the ferry when he would be looking for more drink and he would start to shake and shudder banging his stick on the table like Father Jack demanding more drink. By this time we would have noticed an empty bottle of whiskey somewhere about him or under the seat. By the time we would get him into the minibus he would be affecting withdrawals in order to get more drink. The first time this happened we thought he must be in genuine withdrawal and we would be concerned enough to give him more drink, only realising later that he had more than enough.
The ferry journey seems to have deep significance for the drinkers, for whom in their youth, crossing over meant getting legless drunk, whether going or coming. This behaviour has effectively destroyed many a family reunion or resulted in the migrant landing on the other side with no money to start a new life. Alan isn't the only one these days either, other members of the group drank themselves into a stupor on the boat going over. On the return journey it was only Alan. Everyone is always subdued on the return journey. For Alan though he was nervous going and sad coming back leaving behind his new-found clan of O'Malleys. After his return from the gathering Alan presented me with a gift from his brothers dinner service. It was a fine old worn silver spoon with a shamrock on the handle.
Dunmorre East is situated a short journey from Waterford City in the deceptively gentle landscape of the south coast of Ireland. It is a little like Dorset or Cornwall with gently rolling hills and sudden steep landfalls ending in cliffs and romantically hidden coves and beaches. You could see how the land was attached aeons ago. There is something a little English in the style and manner of the place too and the Catholic Church is a good way out of town, but this is historically rebel country and the people are charming and friendly. There was a bluegrass music festival in town on the weekend we arrived and the place was buzzing with banjos and fiddles. People were spilling out of the pubs and hotels as the bluegrass blended into disco for the non-music lovers and back again for the cowboys and cowgirls. There are festivals are all over Ireland now and everywhere has one of their own with their own style and character. Bluegrass sounds great to me wherever it is, echoing as it does Irish dance music transported to America with an added swing from other emigrant styles in the new country.
This year we had five women with us and they shared a house as they all got on famously from the off and they were forever laughing and joking together. As the week went on cracks in the good humour started to open and warfare ensued on the Tuesday. Marion, one of two women who had come from north London and who had not been home for over forty years, packed her bags and headed off into the town early in the morning. John went after her and found her in the park by the bus stop determined to head off and refusing to divulge her destination. I went down a little later and found her sitting looking out into the bay where the QE2 ocean liner was anchored visiting the town. Small boats were going out to the ship to unload their passengers for a few hours and Marion sat impassively throughout our entreaties. She was fine but she wouldn't stay a moment longer and no she wouldn't say where she was going or what it was about. We all tried to speak with her and one of the women took the bus with her but couldn't get her to speak either, even the local guard got short shrift. She was last seen at the bus station in Waterford. We contacted the referral agency in London who in turn contacted her family, and that was all we could do.
Jim had arranged to meet his solicitor on the Sunday after we arrived, who drove all the way down from Dublin to take his statement for the redress board on institutional abuse in the industrial schools in Ireland. Many of our contacts have had experiences of a similar nature and some have received compensation. The whole tribunal should be wrapped up by next year and will have cost the state and the church a fortune in money and reputation, but at least it will have shone some light into the darkness for so many damaged people. Jim wanted to go home shortly after the meeting and I drove him down to the ferry in Waterford. He said he had toothache and couldn't settle. We had picked up antibiotics from the local surgery where the GP was considerably more interested in getting our forty euros than in Jim's symptoms. I wondered what was the real reason he wanted to get back to his hostel room in King's Cross but I guess antibiotics, or a government tribunal couldn't cure whatever it was. Just as I was leaving he asked were the antibiotics the ones you could drink with. The old boat train syndrome was kicking in again.
Poor old Patsy thought he was still at home in Arlington House, even when looking out the window onto trees and fields. As he saw some of the lads from the hostel going past he would say, 'There he goes again off to the off license. I wonder would he get me a can'. We tried to keep Patsy's drinking to a minimum and after a couple of days he was able to get up and come downstairs in the cottage where he was staying. We went for a long walk down to the beach early one morning, the QE2 still dominating the bay and even with the thatched cottages dotted around Patsy's mind was still drifting back to Camden Town, 'Is the market down this way? Where's the off license?' Later that day I took a group into Cork city and when I returned there were cans and bottles all over the house and Patsy was slumped drunk on the sofa. Two of the lads thought that they'd have a party and believed they were being kind to old Patsy, giving him the drink he'd been craving. We eventually got him to bed but it was another three days before he could get up and by the time we were to take him to Kerry he was still disorientated. We had arranged with one of Aisling's great stalwarts Joe McGarry, who is currently setting up hostels for homeless people in Ireland, to come and pick Patsy up. Joe was running late and we arranged to meet on the road to Killarney at Lismore. By now Patsy was in better shape and managing to limit himself to a few pints of porter as Joe took him on the last leg of his 40 year journey back to Kerry.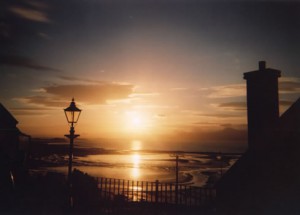 In Cork city we dropped a group off at the English market, where Margaret was meeting her mother, brother and sister up from the west, and I took Danny to visit his family. Danny had been wondering all week whether or not to visit home. We had brought a fishing rod and some tackle and he would head off for some rocks on the other side off Dunmore and sit contemplating the line and his life. He brought home some mackerel one day and on this day he decided to go out to the house, which is just on the side of a hill overlooking Cork city. The family house is now two houses, with Danny's father in one and his sister and her family next door. They are old corporation houses, which the family have bought and are now as smart as show houses. Danny's nonchalance as he walked in the front door belied his nervousness, he had been back only once in many years for his mother's funeral and he felt that he had let himself down badly with the drink at the time. His sister was home and she wrapped her arms around Danny on the doorstep. His father had just gone down to the post office with a bundle of newspapers, which he was posting to Danny in London, having thought about him that morning. Peter and myself went back to the city centre to leave Danny to his homecoming as word went around and cars started to arrive. Peter who has never had a family kept saying, 'He's a good man, he deserves a nice family'.
There were two Steve's with us, one from Dublin and one from Armagh. Dublin Steve was looking after Mulligan, another Dublin man who is wheelchair-bound and Steve was helping him in out of the van and up the stairs to bed etc, because although he was severely disabled Mulligan wasn't going to let himself be restricted in any way. Both Steves desperately wanted to go home for a visit so we gave them spending money and bus tickets and off they went. Neither Steve made it back to Dunmore, which was a good sign. As it turned out Dublin Steve had got back with his family and was going to make a go of it at home. We heard from Armagh Steve as we were on the boat heading back to England. He had made it back to Waterford on the evening before we left but couldn't get in touch with our mobile phone, which was a bit temperamental. He had a panic attack and ended up in hospital with a suspected heart attack. The hospital discharged him early in the morning but he still couldn't get in touch and headed off walking on the road expecting to meet us on the way as we left for the ferry. Unfortunately we took the coastal route bypassing Waterford and he arrived 14 miles later, long after we had left. Luckily Helen in the holiday cottage office gave him some money from our deposit to get back to London.
Everyone was glowing with health at the end of the week. Apart from the women, who could look after themselves and looked after some of the men too, most were unable to make a cup of tea at the start of the week but by the end of it they were fighting over the kettle and preparing lunches and dinners, going on shopping expeditions, heading out for walks in the opposite direction to the pub, and often sitting inside or outside the pub (the smokers) enjoying a quiet pint like anyone else on holiday: living life like anyone else in good company for a week. On top of this were the homecomings and the reunions and the whole business of coming home. For some it was a first step, getting a toe hold back in the old country, for others it may have been their last journey home, but for everyone it was a powerful reminder of their place in the world and that there are no ropes tying them to London.
Marion came back as though nothing had happened: she had been to visit relations in Macroom. We heard from Patsy's brother who had arrived from America and Patsy was happily ensconced in his home town as if he had never left and just as we pulled into the harbour in Waterford Danny jumped out of the van and went off to get the train back to Cork. He couldn't bear to go back to London just yet.