For the last two years Aisling has been staying for a free week every May in two holiday cottages in Donegal donated by supporters of the project. The cottages sleep 10 and we have enjoyed some memorable times there.
John went to collect Billy at the hostel where he lives in Willesden. Billy had no intention of coming on the trip to Donegal, he was lying in bed with a hangover.
'Come on Billy', said John 'get up'.
'I'm not going' said Billy.
'Where are your socks and underpants?' said John.
'In the drawer, I'm not going', said Billy.
'Where's your jacket?'
'In the wardrobe, I tell you I'm not going'.
'Do you have any clean shirts, Billy?'
'Over on that chair, I'm not going'.
'Where's your razor and toothbrush?'
'By the sink – are you blind? Leave me alone'.
'Come on Billy. I've packed your bag. Let's go'.
'Oh, …alright then'.
That was May last year. We had been offered a free week in two cottages in Killybegs in Donegal by Denis and Valerie Morton. They live in Cork where Valerie is a GP and Denis is a psychiatric nurse and they have two holiday cottages in Denis's native Donegal and wanted to support Aisling in some way. The cottages are at Fintra just outside of town halfway up the side of a mountain overlooking the bay and the coast including Leitrim, Sligo, Mayo and beyond. Ben Bulben, Nephin and Croagh Patrick are all clearly visible from up there and the view is a tonic for all sufferers of urban blight. Last year we brought a group of six, with myself and John driving and providing support. Billy started to detox straight away drinking 2 litre bottles of Cidona, one after the other. After a couple of days he realised that the stuff was non-alcoholic but by then he thought it was a good idea to give up the drink for a few months and save up for a big drink at Christmas.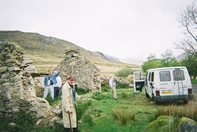 During the week Joe came up from Limerick where he had recently set up a 'wet' hostel at the invitation of the local council. Joe brought Christy, one of the hostel residents with him who was training to be a hostel worker. Christy had never had a holiday and had hardly ever been out of Limerick. Limerick social services had decided that his and his mother's alcohol problems were exacerbated by their co-dependency and they had been separated. Christy missed his mother terribly and spent the time in Donegal phoning her and writing postcards. He had beautiful handwriting.
Our patron, Ardal O'Hanlon visited us for the day last year too and took us to a posh restaurant that had opened nearby where we turned the heads of the staff and the holy communion parties. Afterwards we went out to Slieve League, which is the highest cliff walk in Europe. The drive up is like a roller coaster ride without the safety precautions and we arrived at the car park at the top feeling a bit wobbly on our feet. The view was even better than from the cottages and with the added adrenalin and danger of the drive it was a heady mixture.
Last year we were determined that Willie would come with us and visit his brother in Creeslough but his response was that if he ever saw his brother again he would want to have a gun in his hand. It was 40 years since Willie had been home and 26 years since he had last met his brother in London, when there must have been a terrible falling out. Willie came with us alright but he had no intention of visiting his bother. Then one day we decided to drive up to north Donegal and we stopped at Creeslough for lunch. We enquired of the barman the way to Bruckes, the small town-land Willie was from and we were given vague directions. On the way we were given further vague directions and we eventually found ourselves on a boreen between mountains with hardly a house to be seen. The boreen eventually stopped at a farmyard in the pass next to a lake and two houses, one an old cottage and the other relatively new. Willie didn't recognise the place at all but where else could it be? We got out of the minibus and a woman came out of the house with a small child in her arms. Willie asked if there was anyone living here by his family name. 'Who would that be Willie?' she asked.
'Is that you Marie-Therese? My god it's wild changed around here'.
'Well I suppose the telegraph pole is new alright', said Marie-Therese. Willie stayed the next few days with his brother and sister-in-law and there was no mention of whatever disagreement they had way back when and when we collected him later he was full of stories about the family and friends he had met up in the mountains.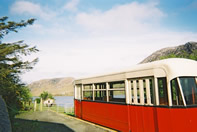 We visited Fintra again in May of this year and we had targeted another long lost son of Donegal we hoped to return to his native home. Charlie had been even longer away from home than had Willie. Whenever I asked Charlie how long it had been since he had been in Donegal he would say, 'well I couldn't say exactly but there was a war on'. For years Charlie was blowing hot and cold on the idea of returning home and eventually as this years trip was approaching he decided he would come with us. On the day we were leaving I arrived early at Arlington House knowing that Charlie would still take some persuading. He had gone off the idea again but he had been thinking about it and had remembered that the date he had left Ireland for the last time was 7 May 1944 – exactly 60 years ago to the day. He didn't seem to be aware of the days date or the significance of it but I was sure this was some sort of omen and that he had to come. However no amount of persuasion was going to work on Charlie. As we were leaving he said: 'sure, I can go anytime I want, wasn't my father a guard on Donegal Railways and their families can travel free'. I didn't have the heart to tell him that they closed down the Donegal railway line not long after Charlie had left Ireland all those years ago and that the nearest station now was Sligo in the south or Derry in the north. Who would believe that such a feat of engineering that cost so much effort and money and brought contact and prosperity to remote areas could be closed down so soon after it was built? That would be crazy.
Charlie is from Finntown, which is on the way through Glenties to Gweedore from our base in Killybegs and I wanted to have a look at the place and take some photos back for Charlie. The first thing I thought when we arrived in Finntown was, 'how could anyone not want to come back here?' It was so beautiful, and the second thing was, 'they've got a railway!' A narrow gauge railway line has been built on the old line through Finntown by the lake shore, following the old cuttings and embankments of the original line from Charlie's time. It only runs for a couple of miles along the course of the Finn river but there are plans to restore a good bit of the old line. We spoke with Martin in the Railway Hotel who seemed to think that progress was very slow and suggested that, one of our group, Eunan should roll his sleeves up and get to work on it. It turned out that Martin had known Eunan when he was working on the buildings in London before coming back to Finntown to run the pub. Himself and John also knew several people in common – as is usually the case with John. The station house at Finntown is still standing and the rest o the town can't have changed much since Charlie's time as there is very little there now. Unlike most of Donegal it hasn't been over built with new mansions and bungalows.
Sean wanted to visit his mother but it was a long journey, all the way down to Crosmolina in Co. Mayo. So we set out early one day and on the way we dropped Joe off at Joe Kelly's pub in Bundoran where he hoped to meet a few old friends from his home town of Kinlough, only a couple of miles away on the narrow bit of Leitrim that is squashed between Donegal and Sligo. We stopped off at John's sister Geraldine's house in Ballina and added 6 more to the household of 9 boys where we had apple pie and cream. We went back to pick up Sean later in the week and found him in the kitchen of his mothers house in the shadow of Nephin in a clean suit and a snow-white shirt. Sean's 93 year old mother gave us apple pie and cream and we had more again at Geraldine's house on the way back to Killybegs.
We took Eunan to see his aunt in Raphoe, a town of many churches of all denominations as well as a masonic hall and an Orange lodge. We then drove to Lifford to leave Pat with his sister where the exhaust on our van packed in. Luckily there was an exhaust centre across the bridge in Strabane and the mechanic there had heard of Aisling and fixed the van at a discount. Later we went looking for Mount Errigal, the highest mountain in Donegal and couldn't see it for the fog.
Michael had fallen out with his family from a distance. Although he hadn't been home for over 20 years he used to keep in touch with the newspapers, buying or borrowing the Donegal Democrat every now and then. Six years ago he found an old copy of the Democrat and discovered that his mother had died. It was too late to go back for the funeral and he rang his aunt who told him that the family home in Burtonport had been left to his aunt's daughter. Since then Michael hardly spoke of anything else but the tragedy of losing his mother and the unfairness of the legacy going to his cousin. I had spoken with Michael's aunt on the phone once myself when Michael was particularly upset and she told me that his mother had no idea where Michael was, but that she knew that wherever he was he would be drinking heavily and she had no choice but to leave the house to someone close to home who could look after the place. I always figured that Michael needed to go back to Burtonport and make peace with his aunt and his cousin, so as to put the loss behind him. Michael always refused saying he would never go back and then this year he suddenly agreed to come with us to Killybegs. But there was no way he was going near Burtonport. We tried the old trick that had worked with Willie the year before and one morning we announced that we would take the coast road up to Gweedore for a drive, going through Burtonport on the way.
Michael came along without a protest and sat in the minibus all the way enjoying the scenery that he hadn't seen for over 20 years. When we arrived at Burtonport Michael started to give us directions to his aunt's house. We stopped outside and Michael got out and went straight round to the back door. The rest of us went for lunch in a local pub and came back an hour later to find Michael happily ensconced in his aunt Mimi's kitchen drinking a cup of tea. Michael stayed with his aunt for three days and when we called back to collect him Michael was ready to go and went straight out to the van. Mimi told us a little of the family history, how Michael had developed an alcohol problem when he was very young and disappeared to England and was never heard of again. But Michael had been as good as gold during the visit and hadn't had a drop to drink while he was there. As we got into the van John and I could see that Michael was as white as a sheet and shaking. John asked: 'Did you have a good visit Michael?'
'Aye sure it was great. Look that's my mother's house there now'. Michael pointed unsteadily to a cottage we were passing. 'My cousin has it now. It would be no good to me and sure my mother didn't know if I was alive or dead. …Would you have a wee can there?'