These are some reflections on Aisling's latest return to Ireland trip in March 2004.
In Blessington by the lakes we hired four houses for the week of St. Patrick's Day. When we arrived in Dublin on the ferry we were having serious trouble with Shane who it seems had decided that he did not want to be with us. He had wandered off a few times on the way over at service stations and rest stops but now he was just being impossible. The rest of the group were threatening to go home as well if we didn't do something about Shane. As it was Dessie jumped out of the van on the quays in Dublin and legged it off to his brother's pub in Amiens Street and said he would meet us at the ferry on the way home. Sam got out at Portobello, 'I've had enough. I'm going. I'll see you at the ferry'. We were facing a mutiny.
We had breakfast in the shopping centre in Tallaght, 18 full Irish. The staff working flat out to serve us and Shane stalked around brooding and menacing, roaring at the top of his voice, 'This toast is cold, these sausages are too hot. Where's my tea', with many unprintable additions. The café was clearing, children were crying. John had to put an ultimatum to Shane, either he starts to behave himself or we would put him on the next ferry home. In answer Shane swung around and took a swipe at some passing children and we were driving back to Dublin ferry port. We bought him a ticket to Euston on the next ferry, which was leaving in an hour. He waited quietly enough and walked on board when the time came. We couldn't spare anyone to go with him and I don't think anyone would have volunteered anyway. We rang the drop-in centre, which had referred him, the next day and he was back large as life terrorising them.
We had hoped that the trip home would have a calming effect on Shane as it had on many others over the years but that wasn't going to happen this time and when he was gone the sense of relief in the rest of the group was huge. Sam and Dessie were staying with their families so that was no bad thing and the rest of us sorted out the four cottages. One was 'dry' because some of the lads were off the drink and couldn't face the temptation if others were drinking. The others three houses were 'wet' to start with but by the end of the week they were all 'damp' going on 'dry', if you get my drift. We have to be careful at all times that no one withdraws too quickly from alcohol. Fits and seizures from alcohol withdrawal can be as bad or worse as they are from drugs, but we're all pretty experienced, especially John who has been an alcohol outreach worker for many years. And we have supplies of drink on hand. Still no matter how watchful you are you can't be on top of everything and Bertie had bought some whisky on the boat and had been drinking it on the sly. He suddenly started having convulsions in the evening. At first we thought it was withdrawal but we found the empty bottle of whiskey stuffed under a cushion – he'd had too much, too quickly. John stayed up with him most of the night coaxing him to drink plenty of liquids (non alcoholic) for rehydration. That same evening Joe, who was very disorientated, wandered off and we found him in the pouring rain marching off towards Poolaphouca with a wheel brace in his hand saying that he was going to unblock some drains in Kilburn. By the end of the week Joe was virtually sober and fully aware although he still kept that wheel brace handy, just in case.
In the beginning PJ took to his bed for a day and a half and Jimmie stayed up all night watching TV and drinking tea. Both from Arlington House, both hardened drinkers, neither of them wanted to drink on their holiday, and they both stuck with it. PJ had the odd can but just sipped out of it now and then and Jimmy wouldn't take anything. I wouldn't want to give the impression that we're all holy Joes and that we lecture people about their drinking because we don't, but I think that when they are on their home soil many of our people want to be in control and they don't want to miss anything, as well as this they want to be on their best behaviour. This isn't always the case and many of our returnees don't have a problem with drink, but for those who do it is often rooted in their experience of emigration, which is not always positive.
Niamh is a doctor in Dublin whose sister is on our management committee in London. She came out to visit the day after we arrived and brought with her a car full of clothes and two enormous apple tarts. She stayed to cook dinner and we all had massive amounts of bacon and cabbage, she also examined the lads who were withdrawing from alcohol and it seems they were all reasonably fit. We met Niamh again on St. Patrick's Day who with Pauline, one of our long time volunteers now living and working in Dublin, came with us to the parade. Any of us with memories of the Dublin parade from years ago were in for a surprise. The parade is now massive and very professionally run. The crowds on O'Connell Bridge were so deep we couldn't get much of a view of the first six vertical feet of the parade but as most of the floats were as big as houses (I think some of them were houses) we could see plenty. On the way back to the mini buses we met a few friends who we arranged to meet up with later in the week.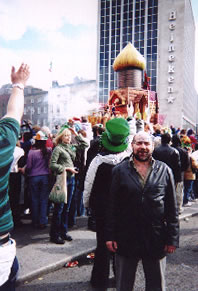 Tom hadn't been to Ireland since 1974. It seems that he had fallen out with his family, left for England and had not been in contact since. Tom was at a funeral recently of an old friend who he had lived with in a hostel and was shocked to find that, apart from the priest, Tom was the only one there to see off his friend. He suddenly realised that this could happen to him if he did not make peace with his family. The family had lived in Waterford before he had left but Tom had no idea of where members of his family were based now. He assumed that his parents were no longer alive but he had a brother and a sister. Back in the 70's his brother had been in the Irish army and was attached to the Ordnance Survey. There was an Ordnance Survey office in the Phoenix Park in Dublin so we decided to start looking there. We asked around the various departments before we found one of the workers who knew Tom's brother and yes, he still worked for the survey but no, he was not based at this office. Tom's brother was a field worker, who was out plotting and measuring, or whatever mapmakers do, but he did come through Dublin once a month. Anyway we left our details and headed off into Dublin for a bit of sightseeing and another bit of homecoming.
Peter comes with us on most of our trips because he is so helpful and willing. The brothers of John of God taught Peter nothing but hard work and cleanliness and he keeps our vans spotless and is delighted to do it. His mother gave Peter up for adoption when he was still in the womb and he was taken to the Sisters of Charity in Blackrock. Peter had never been back there since he was a baby but he has an incredible memory and when we entered to courtyard it all came flooding back. One of the nuns let us look around the grounds and when we were in the yard at the back Peter gazed around remembering the walls, the steps, the stone floors. 'This was where we had our milk. I remember the nuns jumping around here when the war was over'. 'How old were you then Peter?' 'Oh I would have been almost two'.
Later in the week we took Peter to the village in south Wicklow where his mother was from. She never married and was unable to come to terms with Peter's existence while she was alive. She died last year and Peter's only contact now is her neighbour who keeps Peter informed of developments in his mother's (and his) extended family. We left Peter with the neighbour for the day and took PJ to Carlow to visit his hometown. He hadn't been back for over 20 years and was curious to see how the place had changed. . You don't really want others hanging around when you're in a reflective mood and PJ asked could we leave him for a few hours. We dropped him off in the centre and headed off for a drive to Kilkenny, leaving PJ to his own devices. When we got back PJ was in the bar where we'd agreed to meet, on his own. He hadn't met a soul he knew in his wanderings around Carlow, but seemed happy enough, smiling contentedly to himself as we drove back to Wicklow.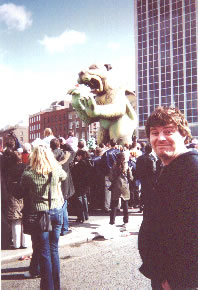 There are some great new roads in Ireland now and the M1 goes all the way to Dundalk so we thought that we would take a run up to Belfast one day. Jim had only been there once since he left in the 1950's and that was in 1974 at the height of the Troubles. The journey took a bit longer than we expected but we were still there by lunchtime. After a fine Irish stew in Robinson's pub and a dander around town we drove out to Ligoniel in North Belfast where Jim was from. We kept driving up the Crumlin Rd until we were way out into the countryside without Jim recognising anything. So driving back down from the farms and woods we kept our eyes peeled for any likely landmarks. Back among the streets and houses we asked some young (11-12 year-old) lads if they knew Jim's street and they had never heard of it. Further down Jim recognised the library and on the way back up spotted the church, but everything else was new, not that it looked that new. I went with Jim into the post office and asked a woman in her 40's behind the counter where his street was but she didn't know it. She checked the A-Z, nothing there either. A few older women in the shop knew the street from years ago but it had been burnt out and pulled down and other streets were put up in it's place. Most of the people had moved out and new ones had moved in but as we got talking they knew many of the old families that had lived around there and Jim caught up with bits of gossip there in the shop as others joined in. As we were leaving one of the women said that we should go across to the working man's club over the road, a lot of the old folks would be in there at this time. We said we would but outside Jim shook his head. He has been off the drink for the last 10 weeks and he was afraid that if he went into the club and got into conversation he'd be right back on it again. So we turned around and went back to Dublin.
On the day after Paddy's day, Tom's brother turned up at the holiday village to visit. He and Tom were the image of each other and we left them together to catch up on all the news from the last 30 years of their lives. The next day a very nervous Tom headed off into Dublin on the bus to visit his sister. He had the address and phone number his brother had given him in his hand. Later that evening Tom arrived back and I asked him how he had got on. 'Well, she lives in a nice house.' 'So what did she say after all these years?' 'Say? She didn't say anything. I didn't go into the house'. 'Didn't you see her at all then?' 'Oh no. If she wants to see me the brother will give her my address'. So close, but just too far. This time.