Aisling's latest spring trip to Ireland was spent in Co. Wicklow.
There was a concert for Aisling held at Vicar Street in Dublin last December. It was organised by Sean McGarry, a supporter of the cause and a very decent man. Before the concert myself and Joe sat in a corner of the bar meeting friends of Sean's who had been out selling tickets over the weeks leading up to the gig. There was a wonderful line-up with the cream of Irish traditional music, including Lunasa and Altan, and they sold half (500) of the tickets before the gig started, while the rest were sold through the venue box office. For about 2 hours I was receiving money and cheques, which I stuffed into my pockets. By the start of the concert I had eur7,000 in cash and eur3,000 in cheques crammed into my various pockets. Just before the show a woman in her sixties and her daughter arrived at the table, looking a little nervous. Sean had pointed me out to her and she wanted to ask me a question.
'I heard you on the radio this morning and you mentioned Arlington House and I was just wondering if you know my son. He lives in Arlington house and we have not heard from him for a long time. His name is Brendan Lynch'.
I did know Brendan and I said so. All the tension that was in her face and demeanour disappeared and she grasped my hand. Her daughter hugged her in what must have been relief.
They knew that Brendan was in the Big House because they had been in contact when he first moved there, but as Brendan's self-confidence deteriorated, he lost the will to stay in touch. And he told his family that he didn't want to hear from them again, that it was just too painful. His mother had accepted that this was his decision, but for the last few years she was hungry for any news of her son. All I was able to tell her was that I knew him, saw him quite often and that he was drinking heavily. He was in a wheelchair having lost his sense of balance and subsequently the will to walk. Brendan sat in the games room in Arlington House with his friends most of the day every day, rarely venturing out, but I said to his mother that I would try my best to get him to come with us to Wicklow on our next trip and maybe she could come up to visit. We held out little hope, but as she was leaving she held out a piece of paper. It was a cheque for eur1,000. I protested. I'm sure she couldn't afford it but she said it was for Aisling. I put it with the rest.
I went into Arlington shortly after returning from Dublin and found out that Brendan was in hospital after having fallen badly. I rang the Royal Free hospital and they said that he was OK but that they were doing tests, etc. I arrived up to see him on Christmas Eve but he was gone. He had discharged himself that morning. I didn't get to see him for a few more days because of the holidays, but when I did, he told me the story of his incredible journey back to Arlington House. When the ambulance had picked Brendan up he was unconscious and they didn't know that he relied on a wheelchair and they brought him on a stretcher to the hospital. When he got fed up a couple of days later and decided to leave he had to make it on foot. Which he did, all the way back to Arlington, hanging on to walls and railings all the way back, about two miles. He had to cross a busy street once and he asked someone to help him, but otherwise he did it solo. By the time he made it back he was tired but elated. He could walk. Back in Arlington House the lads in the games room gave him a big cheer and passed him a bottle of whiskey. He took a swallow and his legs went from under him. He was back in the wheelchair.
Word had gone around that I had met Brendan's mother in Dublin and on Christmas day he called her, and they talked for two hours. Over the next few weeks I came to see Brendan regularly, bringing Fiona, a volunteer with Aisling, also from Dublin. Fiona and Brendan hit it off, becoming good friends and she brought her band in and they sat singing songs in the games room. By the time it came for the Wicklow trip in March, Brendan was ready to go.
When I arrived at Arlington around 4.30 on the Friday evening, I could here Brendan's voice roaring from the street outside. He wasn't going and no one could make him. All he wanted was his money from reception so that he could have another drink. I had asked the receptionists not to give him any money, that I would manage it for him on the trip. But he was having none of it. I quickly collected the money from behind the 'jump' and showed it to Brendan, quickly putting it back in my pocket. 'Come on let's get in the van'.
By now the other residents were piling in and Brendan came without a word, with Ian pushing his wheelchair. Ian, it turned out was a bit of a hero and he stuck with Brendan like glue without a word of complaint. Ian was another denizen of the games room and he was Brendan's constant companion.
At Cricklewood we collected the other minibus, John was in the homeless centre gathering together the gang from there. We were on the road in no time and arrived in Holyhead with an hour to spare. There is always a moment on the boat when the mood changes and big drinking sessions can break out, as they had over the years when they all used to make the journey regularly as young men. Even now as they are older the urge to drink is powerful. For some of the lads who are coming off the drink and are trying to maintain a sense off sobriety it can be difficult and painful. For others, they are straight in to the bar with their order and pints and whiskies are flying. By now Brendan was pretty well subdued and although he had a few drinks he was in a relaxed frame of mind. He was the one I most worried about, but he was fine. The rest of the group were also relaxed and took their time, having a few pints and not overdoing it. I reckoned it was OK to go and get some rest, so John and myself left for the cabin we had booked. After our long drive we needed a rest even though the journey was short enough to Wicklow in the morning.
We had one other stop to make before Wicklow. Niamh, a friend of ours had invited us to her house for breakfast. This was the second time she had done so and it looked like becoming a regular treat when passing though Dublin. Niamh lives north of the city and we drove up along the North Strand through Fairview and Clontarf towards Howth, as the sun was coming up over the Liffey. Niamh was waiting in her little house on a new estate and once again welcomed us all in and once again the breakfast was well on the way. Martin a friend of Niamh's mucked in and served big fry-ups to the hungry multitude. Niamh and Martin chatted with the group and we relaxed for a while before heading off for Blessington.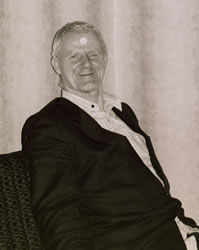 Anne Saunders owns forty or so cottages on a site near the lakes at Blessington and last time we were there she was telling us of her plans to increase the size of the village and sure enough building is well under way for fifty more cottages out along the lake shore. We had four cottages sleeping five in each and somehow we managed to arrange everyone into more-or-less happy families with a support worker in each house. John had a house with a few of the old-style drinkers from Cricklewood, who have been through a few world wars on the streets of north London and on building sites across the country. Catherine had a group from all different parts of London and Ireland – Dublin, Kerry, Galway and Armagh. Mike is a new volunteer and this is his first trip and he had the quietest house; none of his guests are heavy drinkers and they are pretty much able to look after themselves.
My house had two long-time residents of Arlington House, both of whom were heavy drinkers in the past and they have both paid a heavy price for it in terms of their health. Barney has been off the drink since before Christmas, but is still very shaken up. He walks with a severe tremor in his stiffened legs, he has to concentrate before he can pick up a cup of tea and still spills it; and his speech is slurred as if he is drunk. But Barney washes the dishes after every meal, makes tea and sets the table. He goes on every trip around the area that we have organised and manages to live life to the full. He is up at 5.00am every morning, after years of heavy drinking, the early bird catching the first drink of the day. Alan is still drinking, but in Ireland he is cutting down drastically on his usual consumption, particularly because the super strong brands of beer and cider aren't available here, nor the lethal Thunderbird wine from Tennessee (export only), which he favours. Alan's whole body is covered in sores and dead skin from psoriasis, like layers of decayed soles on old boots. The condition is hereditary but exacerbated by alcohol and the soreness and itch drives him mad and makes him drink more. The vicious circle is completed by the visiting care workers in the hostel who are supposed to cream his body each day but don't always bother and the only time he gets regular treatment is on these holidays to Ireland. Consequently he can slow down on the drink while he is here.
Brendan and Ian were also in my house, in the ground floor room and every morning I see Brendan's wheelchair in the hallway and wonder will he get up and try to walk today. Although there aren't so many railings and walls for support around here as there are in Hampstead and Camden Town. By the second day Brendan is looking much better and he feels much better. He calls his mother on the Sunday and arranges to meet her at the house on Tuesday. Pauline, one of our long-time volunteers arrives over to visit. She is working in an alcohol rehab in Dublin these days but takes every opportunity to help when Aisling is around. We have a few more visitors during the week; Pat comes over from London to spend a few days. Pat is one of our volunteers who has started a new job and can't get much time off to come with Aisling but nevertheless manages to fit in a long weekend this week. Niamh also comes to visit on the evening of Paddy's day, she is a doctor and she checks up on those who were unwell on the way over, but finds them all in fine health. She speaks to Brendan for a long time. She is worried that the longer he stays in the wheel-chair without any exercise of his legs the harder it will be for them to ever get back their full usage. Brendan has no footrests on his wheelchair and so holds his legs out in front of himself as he is being pushed around, which of course requires a lot of strength. Niamh explains that these muscles are not the same muscles he needs to walk and Brendan needs to get out of the chair and get regular exercise. I hope that the example of Barney, who is similarly disabled but is determined to walk, might also encourage Brendan. It seems a lot of his problems are psychological.
Brendan's mother and sister visited on the Tuesday and again on Paddy's Day. They are delighted that he is looking so well and in such good spirits. They had feared the worst and were pleasantly surprised. The rest of us went into Dublin for the big Paddy's Day parade. We had to park on the quays, far down near the Guinness brewery and so it was a long walk up to O'Connell Bridge and some of the lads with poor mobility were worn out when we reached the bridge. Catherine took the worst affected down onto the boardwalk over the river where they sat and had coffees, soaking up the sunshine and the great atmosphere. The rest of us stood on the bridge at a good vantage point watching the whole parade as it went past. I headed off early to pick up one of the minibuses. A Guard had told us we could come through the lines of barricades to pick up our passengers nearer O'Connell Street. The Guards very graciously allowed us through and we picked the first group at Capel Street and the more energetic ones on the quays.
Our friend and patron Ardal O'Hanlon had invited us for lunch at his house in South Dublin and we arrived there hungry at 2.00pm. We are ushered into the house on a quiet street and I introduced the 16-strong group of returning emigrants to Ardal, his wife Melanie, their three children, Melanie's brother, her sister and her sister's husband. There was a fabulous buffet and plenty of drinks and we had a lovely pleasant afternoon enjoying good conversation and brilliant sunshine. The lads play gently with the children and talk about their lives in London. Ardal has been a great supporter of ours for 10 years and they are all genuinely interested in what we do and in the lives and histories of our returnees. Later in the afternoon we head off back to Blessington waving to the O'Hanlon's and family as we go. We drive over the Dublin mountains and up into the Sally Gap. We get a call on the way from the George Hook show on 106FM radio. Could we take part in a radio interview? They call back when we are in the mountains but the signal is too faint and we have to abandon it until another time. That evening we find a quiet pub in Blessington for a few drinks later in the evening, so quiet you could hear the clock ticking while the whole of the town seemed to be rioting outside.