In May 2005, Aisling took a handful of returnees to Donegal
I didn't even know Mick was Irish. I thought he was a cockney git always causing trouble at reception, a bit like Alf Garnett's more bigoted brother, but without the charm. When Sally said she wanted to bring him to Donegal with us, I mustn't have seemed best pleased, but she explained to me that Mick was, in fact, from near Killybegs and that he still had family there. I still wasn't convinced, thinking that surely there were more deserving candidates, and that we could only take six on this trip, anyway.
My misgivings seemed to be confirmed on the way to the ferry. Mick is a small man and a big drinker. His mobility is so bad that he uses a wheelchair around Arlington House. His leg muscles are hardened and his balance has gone. He needs constant support but doesn't do himself any favours with his bad temper. However, Sally was determined, and she said that she would look after him during the week in Donegal. 'Good luck to her', I thought.
We didn't have room for a wheelchair in our minibus but we reckoned the exercise would do Mick some good. One of Mick's 'pals' had been feeding him whiskey in the morning before the trip, hoping to keep him in the house [Arlington House hostel] where his daily allowance bought drink for a few hangers on. Nevertheless, we got Mick in the minibus though his mood was worse even than usual. One man who was looking forward to the trip got out of his seat as we parked outside Arlington House. I think the general seedy air of the place intimidated him, and he would not be persuaded to stay but grabbed his bag and headed back to Hammersmith.
We are used to making plenty of unscheduled toilet stops and we also stop at service stations quite regularly to stretch out legs. We were just outside Holyhead when we had to stop on the side of the road. A few of the lads got out and Mick could be heard in the back making threatening comments, while Sally looked uncomfortable. He got off the bus and fell on the grass verge. Myself and John tried to pick him up but he turned on us, kicking and punching and calling us f-ing c's and worse. He crawled around on the grass screaming and shouting saying he was going back to Camden on his belly, that he never wanted to go to Ireland anyway, that we'd kidnapped him and one thing and another. This went on for some time and eventually we grabbed him and put him back in the bus. He kept lashing out and was surprisingly strong for such a small, supposedly weak man. We had to put him in the seat behind the driver because there was no way we could have got him in the seats further back, the way he was carrying on.
By now, the other lads were seriously disturbed too and the atmosphere was charged and unpleasant. We were only on the road a couple of minutes before Mick's arm came over, grabbed the steering wheel and tried to drive us into the side of the road. Both John and I grabbed at his arm and managed to hold him back until we got to Holyhead. At the ferry port we decided that if there was a train back to London Mick would have to get on it. But there were no direct trains and we couldn't trust him to make the connections at Chester and Crewe.
So, we were stuck with Mick.
We were exhausted in any case and so myself and John got into our cabin and got some rest, before the long journey to Donegal at the other end. We were expecting the ferry to be wrecked and Mick clapped in irons a few hours later when we woke up in Dublin. But no, Mick was fine and, surprisingly, the other lads were in good form too. Sally said they'd had a couple of drinks and slept most of the way. Mick must have been having some sort of DT's the night before. All the same, we kept him sitting at the back of the minibus all the way to Donegal.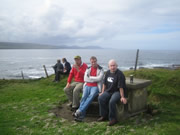 Valerie Morton had once again very kindly given us free use of the cottages she owns with her husband Denis at Fintra, just outside Killybegs. Sadly, Denis died earlier this year but Valerie was determined to keep up the cottages in Denis's home town and was keen to keep the arrangement going with Aisling.
The cottages are high up overlooking Donegal bay, with the coast of Sligo and Mayo visible almost as far as Connemara. Regardless of the long journey and the years of punishment from hard work and harder living, the view alone is a tonic which can cure all known ills – if you can open your heart to it. Well, at least it's a start. And we all gazed out over the bay, feeling the frustrations of the journey and the city ebb away.
The two women returnees, Cathy and Sally, were to stay in the small cottage and the eight men would stay in the bigger one. Over the course of the week some would go home for days here and there, to visit families, and the houses would be more or less comfortable at different times. Some of the lads stayed put, just enjoying the break from the mean streets of Camden or Cricklewood.
Most days we journeyed out for a drive but we tried to keep these short, as there was enough mileage in the journeys to and from London. But we knew we had to go to Sligo at the first opportunity. Henry had received bad news before we left, that his brother was very ill in Sligo general hospital and that he might not last long. So, Henry decided to come with us to visit him. As we were all exhausted after the long journey we decided to relax at Fintra for the rest of the first day and drive Henry to Sligo the next day, because although it meant a long journey back the way we came, at least we would all be rested.
It was a beautiful day as we passed under Ben Bulben and by Yeats's grave. By the time we reached Sligo general we were all in good form. I went with Henry into the hospital to find his brother. Nobody seemed to know where he was, but we decided he must be on the oncology ward and asked the sister there where his bed was.
"Who are you…?," she asked, "…haven't you heard?".
We knew then that we were too late, that he had died the night before. Henry didn't know what to do with himself and neither did the nurse. Eventually, we found out that Henry's sister was also back from London and so we headed for their home town, Balinamore, somewhere in deepest, darkest Cavan.
The roads between Sligo and Cavan, through Leitrim twist around like a salamander, as was said at the time of the border commission in 1921, giving birth to the term gerrymander after the bloke called Gerry that devised the dreaded thing. No wonder the British army were as lost there as were the Americans in Vietnam. We left Henry in one of the many pubs in the town as the wake began. We would pick him up on the way home. And so we made our way back to the cottages, cutting a more direct route through the north, but still getting hopelessly lost at times.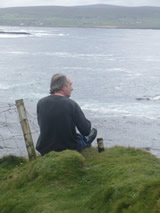 We made another journey into the north during the week, Dave wanted to visit his father in Derry, but he needed to slow down on the drink first. And he wasn't slowing down, at all. In fact, Dave was drinking anything he could get his hands on. Every time you looked around he seemed to have another drink in his hand. Obviously, we can advise and encourage people to limit their drinking and usually they want to, anyway, but we can do nothing beyond persuasion. And Dave just wasn't ready. Eventually one morning Dave woke up and decided he didn't want any more drink and that he wanted to go to Derry. So, we set off, stopping for some diesel just before the border to take advantage of the cheaper fuel. As we were filling up, Dave went into the shop for cigarettes, came out with a bag of beer, draining one as he walked out of the shop. He was on the second before he sat down in the van and he was throwing an empty third into a bin as we pulled away.
Dave was looking for more beer when we got to Derry city but we kept on driving through. We had been to his brother's house a couple of years previously and had a good idea what direction to go in. We were a long way out of town in a well-to-do suburb when Dave asked us to stop. We pulled up just past a large bungalow outside a shop and garage forecourt.
John said, "Now Dave, don't go in there for more beer", pointing to the shop, "Go home and see your family first".
"I can't go in there. That used to be our place before my dad drank it away. He's as bad as me on the vodka," and off he went into the bungalow, where he stayed for a few days. Although he was living in a pretty grim hostel, drinking on the streets and in the alleyways of north London, Dave never felt that he had a problem with alcohol. His family had lost their business through drink and still the message wasn't getting through. The power of alcohol to delude is phenomenal. But Dave is still reasonably fit, he's not yet 40 and looks OK. There are probably still a few rungs left on the bottom part of the ladder and he needs to go down a bit further yet before he can climb back up.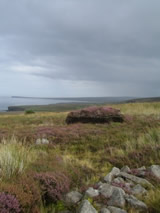 After a few days, Mick was down to only a few cans of Guinness or a couple of pints in the pub and his sweeter nature was shining through. His memory was pretty much shot after all the years of alcoholic abuse, but it was starting to come back now and one day we went for a drive out to Sliabh League, which are the highest sea cliffs in Europe. It was a beautiful calm day, but up on the cliffs there is always a stiff breeze. We stood up there for a couple of hours, taking in the amazing sights and recovering from the stressful drive up the precipitous, switch-back road.
Mick started to remember and on the way down at the town of Carrick, when we stopped for a drink, he told Sally that he knew this place. He thought that this was where his sister Joan lived. Sally asked at the bar if there was anyone by Joan's name hereabouts and we were directed three miles out of town. As we drove out we kept looking at Mick to see if there was any recognition, but he showed no flicker of awareness of his surroundings. Eventually we came to a small cottage off the road. This must be it, we thought, as there was nowhere else around. Sally knocked and as soon as the old lady opened the door, we knew she was Mick's sister. I looked back at Mick blinking behind his glasses, "Come on Mick and meet your sister".
They hadn't met for 40 years. Mick had been only 17 when his sister had returned from London to settle in Donegal. Joan is 20 years older than Mick and had had to be a mother to him when she was a young woman, but then left to start her own family at home in Donegal, leaving Mick in London.
They stood holding hands, saying little.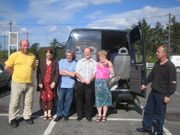 We arranged to call back later in the week, when Joan had had time to get used to the idea of her long lost brother turning up on the doorstep. And by the time we came back, Joan's whole family was there, sons, grandsons and grand daughters, nieces and nephews. It was a grand homecoming for Mick. The bad tempered cockney git was gone.
On the way home, we broke down at Holyhead and had to get the RAC to tow us back. We were squashed into the back of the breakdown truck all the way to London. Mick sat quietly the whole way back with a smile on his face.