Alex McDonnell writes of Spooky goings on in Donegal, as another Aisling trip brings home lost souls.
Henry had visited his cousin in the deep rural splendour of Leitrim last year (see Sligo Champions) when we took an excursion there from Sligo. And he had been planning a return this May while Aisling was travelling to Killybegs in Donegal. This was to be another of our regular stays in Cloghey Cottages, Fintra, courtesy of Valerie Morton, a long time supporter of Aisling.
Between September and May a lot had happened for Henry including a move to a new flat in Tufnell Park and struggles with his personal finances and his drink and gambling addictions. His cousin Tony and wife Bernie were happy to have Henry for the week we were in Donegal and we could drop him off on the way through. That was the theory… But of course sometimes life gets in the way of even perfect plans and Tony was blowing hot and cold on the arrangement in the weeks leading up to the trip. Henry was, as well, and just before we were due to go, he called it off, claiming he had hurt his toe. Charlie, one of our trained Aisling workers, was not one to take such a claim at face value and as a nurse was in a position to verify that Henry's toe wasn't really that bad. At least it was taking him to the pub and the bookies well enough… The truth was that he had gambled the crisis loan he had received from the benefits agency and wouldn't go without money in his pocket. We agreed to loan him some money and the trip was back on.
Kevin was another of our Sligo group who we planned to drop off on the way, to his brother Michael in Tobercurry. However, Kevin pulled out the week before the trip and when his brother heard the news he cried down the phone to Charlie. Another loan was arranged with the hostel and we were back in business again. On the apponted day we all gathered at the Irish Centre in beautiful sunshine. Henry was there in good time, as were five of the other six who would be spending the week with myself and John in the cottages in Fintra. Kevin wasn't to be seen anywhere, though. Marie at the Irish Centre said that someone who fitted Kevin's description had been there an hour earlier, but had left without saying anything. We rang the hostel and they confirmed that they had sent Kevin out very early for the appointment. We sat it out for half an hour and Kevin turned up eventually. Brendan from Arlington House didn't though. I had been with him earlier in the day and he had packed his bag but he was worried about missing his signing-on day and so we went down to the job centre to get a holiday form. He wouldn't fill it in there and then but would drop it in later on his way up to the Irish centre. I didn't argue because I had too much to do but I thought there may be problems there. When he didn't turn up we drove down to Arlington but there was no sign of him. Joe said that Brendan had lost the holiday form and had made himself scarce.
I felt that Brendan had planned to lose the form all along. Not for the first time, Brendan had lost his nerve and didn't make it home with Aisling… but we will try again next year. So, as we set off on the road for Holyhead there were nine of us altogether: myself and John as worker/drivers, Henry and Kevin to be dropped off on the way and five returnees going home to Donegal. The journey was only memorable for the many toilet stops. We were lucky not to have a roadside incident several times as Thomas, deaf and insistent, wanted toilet relief on demand and as he was drinking steadily from a bagful of cans this was frequent. He had to be restrained from opening the side door of the van when we were on the motorway. On each occasion we were near enough to a service station, but Thomas wouldn't bother to go into the services and would go next to the van as soon as we stopped to the shock of other motorists. Progress was slow with barriers on the M1 and M6 slowing traffic down to 40 miles per hour with no visible sign of any road-works taking place. However there were plenty of speed cameras mounted along the road side making it worth their while.
We had booked cabins for each of us on the ferry so that we all had a good night rest and were well refreshed in the morning. We got onto the new N4 motorway all the way to the Kinnegad turn off and doubled back to find Mother Hubbard's, where we had a fine breakfast. Kevin's brother, Michael, met us in a hotel car park outside Tobercurry where we had arranged to drop off Kevin. Kevin seemed to have deteriorated in the few months since last September and Michael looked a bit shocked at his condition. We promised to keep in touch and headed off for Leitrim.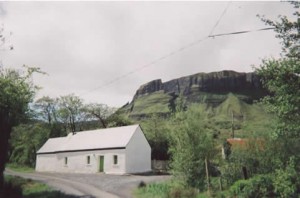 We approached Henry's home place from Manorhamilton and it looked very different to the last time we were there in the summer, coming, as we did from the west on that occasion. As we curved around the Ben Bulben mountain range, looking like a greener Monument valley from the classic westerns of John Ford, we took a few wrong turns but discovered a remote and stunningly beautiful part of Ireland on the way. Suddenly, down an overgrown boreen Henry spotted his old family home looking newly whitewashed and picture-postcard-perfect under the rocky mountain tops. Around the corner was his cousin Tony's house, where we left Henry for the week, although I had the feeling it wouldn't be the last we'd hear from them, as Tony looked distinctly less welcoming than last September.
At Fintra we drove up the hellishly steep track to Valerie's cottages overlooking Donegal bay and the lads gasped as they saw the view for the first time. It was also virtually the last time they would see the view as the weather intruded on it for most of the next week. But for now we drank it in and felt the cares and stresses of the journey and London town die away. We got settled in quickly and some of the lads went straight to bed although it was only early afternoon. Myself and John drove down to Killybegs to get some shopping in and felt the distinctly eerie quietness and lack of activity in the town. We drove around the harbour and every boat in the fleet must have been there, amid the brand new harbour that was only opened last year. We learned later that allegations had been made of fiddled fishing quotas and the whole fleet was under investigation and confined to shore. All the brand new state-of-the-art factory ships, only newly launched, were in dock, along with the older traditional vessels. During the week we saw hardly a ship in the bay, when in previous years we could watch the boats coming and going all day long. The Harbour Bar, which would have been heaving night and day was empty with only a few customers in the evening and no-one during the day. It was like a ghost town with ghost ships in the harbour. Millions of euros in investment were tied up on the dock and the competition from Russia and Europe were out on the fishing grounds. It was a sad spectacle.