We returned to Mulranny this year as if it was our home. It feels like that now and we always receive a great welcome from our spiritual parents and brothers and sisters in the small, unique community on the edge of Clew Bay. This year the weather was beautiful. The sun shone for the whole week that we were there.
We arrived on Sunday the day before St. Patrick's Day and found the holiday cottages on a hill above the village facing out over the bay towards Croagh Patrick and the islands dotted out into the Atlantic. Small and perfectly formed like most of these holiday developments throughout Ireland the cottages are built to a high standard and situated in areas of outstanding beauty. For a lot of the year though they must be empty and this is a bone of contention in some of the areas where local people can't get planning permission or can't afford their own home. This is one of the issues that many feel could fuel the next round of emigration. If such a thing were to happen again it would be against all of the trends in recent years but the economy has proven a little shaky and housing inflation is making it very difficult for first time buyers. The social housing sector in Ireland is also pretty undeveloped and private renting is beyond most people's pockets. The only alternatives are small housing projects in local areas run by the local people. There are many of these around Ireland and they mostly cater for elderly people. The Irish Council on Social Housing has 120 organisations affiliated to it, many of which fit the above profile while others have thousands of units throughout the country including everything from general housing to special needs housing.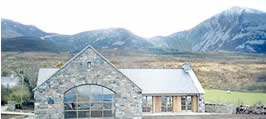 Jerry Cowley, the Mulranny GP who has become a national figure thanks to his awesomely proactive work in the local community and with returning emigrants, founded St. Brendan's Village in Mulranny as a home for local people who were isolated in the local area and for returning emigrants who were astray in London, Birmingham, Boston etc, in the far-flung hinterlands of Irish exile. The experiment has worked very well and the village, and clinic attached, house over 60 residents and employs the same number of carers, nurses etc. from the local area. Jerry also founded Safe-Home, which places emigrants from the UK who wish to return, with housing in their local areas of origin. This proved very difficult in the early years, but has become increasingly successful in recent years thanks to government legislation brought in by the last government, 18 months ago, by minister for the environment Bobby Molloy, which makes specific provision for 25% of new sheltered housing available for returning emigrants. This was successfully lobbied for by Safe-Home and it is mostly the elderly or severely disabled who can benefit from this scheme, but it has allowed hundreds of emigrants to return to their homeland and Safe-Home have hundreds more on their books, as the mass emigration generation of Irish reach old age and wish to return to Ireland.
Jerry and the St. Brendan's village people invited us to a meal towards the end of our stay in Mulranny and we arrived at the village hall for lunch on a balmy sunny day. As we walked into the hall the locals and the residents of St. Brendan's rose to applaud and we sat down to a sumptuous meal. Earlier in the day we had heard the sounds of a helicopter buzzing around overhead but paid little attention as we were used to all sorts of background noises in London. After dinner Jerry rose to make a speech of welcome at the end of which he apologized and said that he had to leave early to go to the Dail to make a speech and vote against using Shannon airport for refueling American bombers on their way to Iraq (we had been watching them on their flight path over Achill) and off he went in a helicopter to Dublin.
One of the main activities during our visits with Aisling is to connect returnees with their familes and their local areas, where possible. Jimmy had met his sister in London this January, for the first time in 28 years. She had searched for him for years and eventually located him in Arlington House. For many years previously I had tried to persuade Jimmy to come with us on one our holidays and he always refused. In fact his refusals could be quite angry and vociferous. Jimmy probably felt unable to return for fear that he would be rejected after so many years. When his sister Mary found him, however, a new world of possibilities opened for Jimmy and he approached me about returning with us. Jimmy was born in North Mayo and his sister lived just over the border in Roscommon and they had an arrangement to meet in Knock on St. Patrick's day. However on the morning of St. Pat's Jimmy couldn't remember where or when they were to meet and didn't want to go until he spoke to Mary. Unfortunately he didn't have a phone number or an address where to contact her, so Jimmy came with us around Achill visiting local communities and joining in the Paddy's day celebrations.
Achill has a great tradition of marching pipe bands and every local village had their own local band out on parade and at one small village about 20 bands paraded in the lanes, parish halls and pubs. In the sunshine the vast open skies stretched forever and as we traveled the high mountain passes with the sheep and gulls the only company, we were as far from Camden Town as anyone could believe possible. At the end of Atlantic Drive is Keem beach, an idyllic stretch of sand enclosed by high mountain sides and the edge of Clew Bay. In the distance is the coast of Connemara and out in the ocean is Clare Island. If Leonardo DeCaprio saw this place he'd never leave, defending it with a machine gun.
When we returned to Mulranny I went down to Docherty's supermarket to buy groceries and Kathleen Docherty caught my eye through the door to the bar next door. 'There is someone here looking for one of your men' she said. It was Mary, Jimmy's sister and her family: they had tracked him down again. Jimmy had never met his brother-in-law or his two nieces and nephew and he was shaking with excitement and nervousness as he got his few things together to go off and stay with them for a few days. Earlier in the day John had taken another group around the north of Mayo, dropping Sean off at Crosmolina. The place was deserted with most of the town in Dublin at the national football club championships at Croke Park where Crosmolina were playing against Nemo Rangers from Cork and which Crosmolina narrowly lost after a great match. Sean's mother is 91 years old and was delighted to see her long lost son. She had 15 daughters and only two sons. Tom also visited his mother who was 82 and drove down from Tobercurry in Sligo, to pick him up in Castlebar. He was at the county hospital there to visit his wife who had had a stroke. Tom would stay in Tobercurry with his mother until the end of the week, with her driving him in each day to see his wife in Castlebar.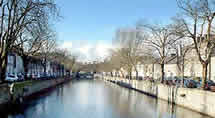 Gerry was also planning to see his family in Galway and John drove him there, and on the way took John to see his brother in another part of the county. Gerry hadn't been back in 20 years, having left when he was only eighteen. In recent years Gerry's mobility was so impeded by his chronic alcoholism that he was in a wheelchair for more than a year. He has been dry for a few months now and is getting around with the aid of just a walking stick and hopefully, may be able to get rid of that eventually. John lives in a hostel in Battersea and also has a long history of alcohol use. He has stopped drinking recently but still goes into his local most evenings for the craic and an orange juice. He met Catherine, one of our volunteers there and she persuaded him to come with Aisling. He hadn't seen his brother in 27 years and the last time they met they parted on bad terms so he was pessimistic about the reception he might get. However he arrived at the brother's house and found him quite severely disabled from a stoke, but otherwise in fine form, and he kept John and a group of the other lads entertained with his stories of raising horses and raising hell around the country. He was glad to see John and they made up their differences and John is planning a return trip soon.
Joe McGarry, one of the first Aisling returnees [and now our Chair] arrived up from Limerick, where he is running Ireland's first 'wet' hostel for Tir an Droichead, a registered housing association. Joe wanted to speak to Jerry Cowley about a joint venture between Aisling and TanD which we hope to have up and running soon in Tralee, Co. Kerry. When we were in Kerry in the summer with Aisling, Joe and myself met with Tralee council and formed a plan to provide hostel accommodation for the homeless in Tralee and Aisling clients who want to return to live in the area. The plan is starting to come together and Tralee council are already putting down a deposit on a building in the centre of town. We had a long talk with Jerry about bringing it all together, in the style of St. Brendan's village, and he took us for a walk around the ruined structure of the Great Southern Hotel, just behind our cottages, which was one of the great hotels of Ireland. Here John Lennon and Yoko stayed before going out to their island in Clew Bay (legend has it that a bootleg tape was made there late one night of John singing rebel songs). Behind the hotel is the old Great Southern railway line and the old station buildings lying derelict. We walked the old line, covered now in grass and weeds and came into a clearing bordered by evergreen trees and rocky mountains. We could have been in Montana or Arizona. 'This is where we are going to build 25 houses for returning emigrants' said Jerry, 'sure they might have to open the railway line again'.