Once more Aisling returns to the shores of Clew Bay to visit old friends in Mulranny.
Before this trip I got a call from Tony who used to live in Arlington House. He wanted to see me because he was unhappy in the hostel he was living in now: he was being bullied and was feeling very unsettled. I visited him in his little room where he sat sadly on his bed with a can in his hand, bits of clothes around the room, little Irish knickknacks on surfaces, old calendars on the walls and a Mayo football jersey across a chair. Tony hadn't been home [to Ireland] for years. I thought it was ten years because ten years ago I had bought him a ticket to go home on the National Express coach after his brother died, but I later learned that he hadn't made it to the coach station that evening and so it was over twenty years at least since Tony had been home. I figured there was a possibility of Tony going back to Arlington House if he agreed to a hostel swap. And I also asked him if he would come back with us on our pre-Christmas trip to Mayo. Tony jumped at the chance. It would at least get him out of the hostel for a week. We agreed to take his friend Michael too if there was room on the day.
Michael, it turned out was quite the most bad-tempered guest we had ever had on one of our trips. Because of his drinking he was prone to swollen legs and leg ulcers and his mobility was poor at the best of times. He used a walking stick and we learned to keep out of the way of it on the occasions when Michael was out of sorts. When we were on the road his voice would pipe up now and then in the van demanding this and that, mostly drink related. The funny thing is when I went to assess Michael for the trip, he was off the drink and in good health. I asked about his mobility and he did a little jig for me to show how well he was. He wanted to visit his home town and I promised that I would take him. As it happened he never made it to his home town, as he was only interested in where his next drink was coming from and bought crates of Guinness from the local shops which he went through with great speed. Another Michael, who was from Omagh, was able to match him for consumption but it seemed to have little effect on his personality. Omagh Mick was as thin as Mayo Michael was fat and yet he somehow managed to put away a huge amount of beer. He could also drink ferocious amounts of whiskey but I told him early on that there was no whiskey to be had in any of the off-licenses in Mulranny.
As often happens we were invited for breakfast by Niamh Collins when we got off the Dublin ferry in the early hours, but this time it was to be at her mother's house in Portmarnock. We were treated to a fabulous breakfast served up by Niamh, her mother Maire, her father Paddy and their friend Frank. Everything was going well until Frank, who is from Mayo, asked Michael about his home town – which brought a stream of invective from Michael which shocked us all. I got Michael to apologise and out of the house as quick as I could but it was a pretty unpleasant experience. Nevertheless, everyone else had a grand breakfast and it was a lovely start to our journey west. Niamh had collected loads of clothes from her friends and family, so much that everyone that needed clothes was kitted out for the week in the best of gear.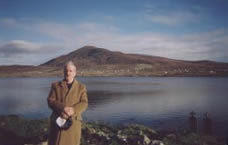 We dropped [Aisling client] Sam off in Finglas near his father and brothers' houses and arranged to meet him at the ferry port on the way back. During the week I received a call from one of Sam's brothers to say that Sam didn't make it to his family's home, that he had an accident after we dropped him off and was now in hospital. Another brother called back the next day and I was told that Sam had disappeared from the hospital. I kept in contact with the brothers over the next couple of days but there was no sign of Sam, so I rang Arlington House and was told that Sam had walked in to the hostel that morning. We later found out that Sam had a blackout after we dropped him off in Finglas and a passer-by had sent for an ambulance. He was brought to the Mater hospital where he woke up in confusion that night and walked out of the hospital to the docks where he cadged a lift on a truck to London.
On the road to Mayo we were passing through Longford town when Michael demanded the toilet. A few others wanted to go too and I pulled up outside the hotel on the main street and they all piled out to use the toilet except Michael who headed up the road calling us all sorts of unprintable names. I left him go feeling sure I would know where to find him. After a few minutes I followed in his considerable wake to the nearest pub, where Michael stood at the bar with one pint finished, a second on the way and a bagful being prepared to carry out. By now he was calm and apologetic for his behaviour, but he had got what he wanted and we were soon on the way again.
We were all a little exhausted arriving in Mulranny but the sun was shining and the tide was in and as we opened up the houses where we would live for the next week everyone smiled at the magnificent view of Clew Bay from the enormous picture windows. Doherty's supermarket dropped up a bag of groceries to each house, compliments of Jerry and Theresa Cowley. Peter Quinn (cattle dealer and friend of John Glynn) had met us on the Dublin Road with a bag of meat containing, it seemed, a small heifer and two medium sized pigs, so most of our catering needs were sorted for a few days and in terms of meat for considerably more than the week. We would be taking some of it home with us.
On the Monday we were invited to St.Brendan's village care centre in Mulranny, overseen by Jerry Cowley, the local doctor, independent TD and all-round good guy and renaissance man. Once again we were made to feel most at home and were welcomed like returning heroes. One of our past clients walked past the window as we were having lunch. He was in the process of resettling and Jerry told me that he was finding it difficult to settle back in after so long away. We danced the day away to the sounds of the Molloy brothers, one of whom was also the local taxi driver whose path we kept crossing during the week. They were augmented by a banjo player for a few songs who was no stranger to the streets of London and even sang the old Ralph McTell song for us.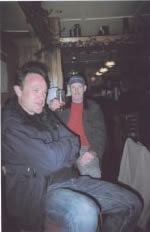 We had a lot of driving to do over the few days including trips home for some of the lads to Omagh, Carrick-on-Shannon and Athlone. Those were just the furthest afield but there were many more to visit around Mayo. It was a long drive to Omagh in particular and Charlie and Shay set off early with Omagh Mick and a few others along for the journey. It turned out that Mick's father had been in the army stationed in Omagh when Mick was born. This was in the 1940s and Mick remembers that the house they lived in was part of the town. Today the streets were still there but the army quarters were totally separated from the rest of the town now with high security fences and it was impossible to go in to even visit without written permission from the MOD. We asked around to find if there was any way in but obviously this is not always a comfortable thing to talk about in any part of the North, as even now, deep into the peace process, Omagh is particularly jumpy. Discussing the security forces is not easy. We had a cheap and cheerful meal in a pub and a sandwich shop gave Charlie a load of free sandwiches when she told them about Aisling. Everyone agreed they had never been anywhere so friendly. Mick was disappointed not to have seen his home but he had seen his home-town and had been made to feel welcome (although Mayo Michael would use the knowledge of his father's membership of the British army to give Mick a hard time later on).
The two Michaels were drinking as much as they had at home, although much lower in strength, but others had slowed down considerably. Patrick had been through a rehab programme in London and we were careful in case the environment tempted him or if the visits to pubs would be a trigger that would make him drink. He would stay home on some of our outings but mostly he came along with us quite happily, sitting in pubs having conversations and drinking non-alcohol beer when he could get it. His mother was living only a few miles away in Castlebar but he kept putting off a visit throughout the week. In fact Patrick never did make it to see his mother but he had proved to himself that he could come home without drinking and there would be other times. Patrick is a keen cook from which the lucky people in his house benefited and Charlie tried to get him into Jamie Oliver's cooking school in London but he was too old. He is looking at other opportunities though.
Paul did make it back to see his mother who lived not too far from Mulranny. He had been through a rehab before the trip and was drinking a few cans of beer to take the edge off his craving. One morning I noticed two cans of beer were missing from the kitchen in my house. Everyone in the house had a few drinks but I had some stashed away for emergencies. That afternoon Paul came around to the house with two more cans. He had felt a bit jittery in the night and remembered seeing the two cans in my kitchen. They had done the trick and he was ready to go home. John dropped Paul home that afternoon. We called ahead and his brother and sister had come down from Dublin and there was a great homecoming.
The day we arrived in Ireland and the day we left were beautiful bright sunshiny days but the days in between were cold wet and windy. It rained so much that the rivers burst their banks and half the fields in Ireland were flooded. The Shannon at Carrick was a mile wide and at Athlone the river was so swollen it was touching the underside of the bridge.
Tim's return to his home town of Carrick was the first for many years and was fraught in other ways too. When we found it, the old family house was empty and we went to a pub for lunch to decide what to do next. Tim started chatting to a woman at the bar who knew his family and gave him an address for his sister who according to her still lived in the town.