Alex McDonnell on the Wild Atlantic Way, Donegal branch
One day earlier in the year I was in the Sheephaven Bay pub in Camden Town talking to the guvnor Pat Logue about Aisling and other things and I mentioned that the house we always stay in in Donegal would no longer be available to us this spring. Straight away Pat said, 'you can have my house for the week'. I knew Pat's family home had burned down years ago and that he and his family were planning to rebuild it but I had pretty much forgotten about it. 'We're just finishing it off now, when are you going?' We were leaving in a few weeks and Pat said that his house would be ready for then so why don't we stay there? Why indeed? Pat had come up with the goods again and we had somewhere to stay free of charge in Donegal again. The previous house we stayed in was in Killybegs in the south of the county and Pat was from Downings way up in the north near the Sheephaven Bay the pub is named after. Before we left Pat gave us directions from Letterkenny and from there Carrigart. From there on we needed the assistance of Pat's cousin Hughey who met us in the village and led us to Downings out along the peninsula and over to the other side where Pat's family house was standing brand new and immaculate on a vantage point overlooking the Fanad peninsula across the estuary. It's all estuaries and peninsulas around here.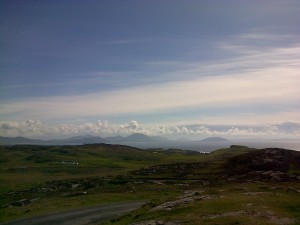 Pat Logue is the longest standing friend and contributor to Aisling, organising fundraising events in his great pub, The Sheephaven and elsewhere for as long as Aisling has been going. That's 20 years now and since the early days when we would organise one trip a year with 30 returnees, Pat would always find some way of raising a lot of the money we needed. The pub he managed on Camden High Street before he got the Sheephaven was granted a late license and he collected a pound from each of the punters who came in for a late drink after 11.00pm and when we needed it Pat would have a pile of money to pay for our next trip. He is also a member of the Camden and Inner London Licensees Association (CILLA) who have supported Aisling loyally down the years. CILLA is the local pub landlords trade association and is very active in the Camden community and what is unusual about this area of London is that so many of the pubs are still in private hands and many of those hands are Irish. This is a rich tradition and it is being replenished by the many bars and music venues opening in the area to cater for the huge youth tourism trade which is attracted to Camden's legendary nightlife.
On this trip we carried with us the cremated remains of a young man whose emigration path and death followed that of a brother who died a similarly sad death in London. A third brother, Patrick carried the ashes to his sister's house in the south-west of the county on the wild rocky coast. We arrived in sunshine with the plastic urn in a supermarket shopping bag carried by Patrick who was looking a little sheepish as he got out of the minibus in Cathy's driveway and embraced his sister. Inside the smart bungalow Cathy led us to a corner of the living room where she had set up a temporary resting place for her brother's ashes on a carved table with flowers and religious figures, he would eventually be going back to Derry to be buried with his family but Sean was back in his sister's house for the final time. We had visited here before a few years ago when Sean was on one of his drying out visits and I remember walking the rocky pathways between the new houses covering most of the coastline with Sean encouraging him to stay a bit longer with his sister and to try at last to finally break away from the drink that would eventually kill him. It was no good and he was itching to get away from the quiet country life which he felt was suffocating him. He dreaded disappointing his family but the lure of the chaos and exhilaration of street life in London was stronger and he was addicted to it every bit as much as he was to the alcohol which fuelled it.
Cathy showed us the outhouse her husband had built for Sean which he escaped to when things got too much for him in London and he needed to dry out. It was a mini cottage to the side of the main house overlooking the sea. Touchingly there were books and cd's belonging to Sean and a few clothes still hanging in the wardrobe, remnants of a life he tried to live while the itch nagged away at him. John and I talked with Cathy about Patrick the third errant brother, who was drinking a can of lager in the main house as we spoke. Patrick was living a similarly itinerant life in London, ducking and diving in search of drink and the high life. It had brought him homelessness, illness and dependency but also that crazy sense of freedom that, at least temporarily, seemed to make it worthwhile, at least while he had the money to keep the buzz going and the youth to live through it relatively unscathed. Tom, the eldest of the three had died a drink related death and now that Sean had died in a similarly pointless way we hoped that this would shock Patrick into a change of life.
Like all dependant alcoholics it's often the lack of drink that will kill you in the end.
Like all dependant alcoholics it's often the lack of drink that will kill you in the end. Sean woke up one morning with no drink and no money either and like many times before he went out to find a drink, any drink, anywhere and before he could find it he went into withdrawal convulsions on the street and woke up in hospital on a trolley in A&E. At least he was in the right place and luckily he hadn't injured himself while fitting on the hard ground. As usual there was a long wait to be seen at A&E and Sean was feeling a lot better now except that he still needed that drink. He hopped off the trolley and headed out on his quest, his body still withdrawing. Out on the street Sean began another fit and fell to the ground. This time he crashed his head on the pavement and never recovered.
Standing in the recovery house Cathy said, 'Anytime you want to you can use this place. We built it for Sean but it's here for you to use anytime you want.' What about Patrick? Do you think he might kick the booze and dry out for good? Cathy slowly shook her head, 'I don't think there's much chance for Patrick any more than the others', she said ruefully. Patrick is indeed a difficult case, less chaotic than his dead brother was but very stubborn and even now unable to see that he is in the same situation and in danger too. Even now the need for a drink is at the forefront of his mind. We have a couple of cases of beer stashed away for emergencies, if anyone is in danger of withdrawing and we don't disallow drink on this trip but we are determined not to turn it into a booze cruise, certainly not when we are delivering the ashes to Cathy of her dead brother. Patrick however has a can to hand at all times during our visit.
Back in London before we set off, in yet another bar I was talking to a friend called John McDonnell (no relation) who is from Fanad and mentioned that we were going to Downings and John said there is a bridge over the estuary to Fanad recently built so I had no excuse not to go there during the week. On our way to Derry we thought we might take this route and I had it in my mind that I had seen this bridge but couldn't remember where it was. John Glynn had the same feeling too so we headed off following the roads nearest to the sea heading inland, eventually coming to a turning a few miles past Carrigart and there it was the Harry Blaney Bridge. On the other side we explored the wild beauty of a part of Donegal we had never seen, up over Fanad Head and on high cliff passes down into sheltered coves and pristine beaches. The coastal route of the west of Ireland has been named The Wild Atlantic Way and it certainly suits the coast of Donegal, this part in particular is much less occupied than Gweedore and Inishowen and is consequently 'wilder'.
A day out in Derry is our usual habit and as well as Patrick we have some other Derry people with us one of whom, Barney will be staying for a couple of days and we are meeting James in the Sandino Bar who had come back home for a funeral and now he was going to spend a few days with us in Donegal. We managed to park in a space near the Guildhall just vacated by a woman who gave us her parking ticket which had an hour left to run. Right across the road from Sandino's and we popped in for a drink. The Sandino is a tiny but very lively place which is also a music venue in the evenings. At lunchtime it is a handy meeting place and an interesting spot to people-watch or to look at the posters, photos and images of revolutionaries down the years decorating the walls. As its name suggests there are photos of Sandino, his later followers the Sandinistas and Zapata under ridiculously massive sombreros, Che in his trademark beret and Fidel in his forage cap. Tom Barry was there also and although no hat could cover his massive shock of hair several of his comrades in the flying column were sporting trilby's worn at a jaunty angle. The Indian bandit queen Phoolan Devi is there in her broad head band, Sitting Bull and Geronimo in war bonnets – a history of outlaws, bandits and revolutionaries in distinctive headgear. Fantastic!
John spoke to a passing parking warden who said we were OK where we were parked for a couple more hours at no extra charge and so we did some sightseeing. We had a look into the Guildhall as it was nearby and admired the stained glass windows depicting the sober suited grim faced aldermen and merchants who ruled Derry city on behalf of the city of London, very uninspiring subject matter but great workmanship and our first stained glass encounter on this trip. We found the craft village which has newly opened on the hill up to the diamond inside the city walls where we spent a good while looking at the amazing variety of souvenirs on offer in a tiny shop run by a chatty woman of about 70. I found a second hand bookshop well worth a browse there too. Back on the street Barney was nearly run down by his sister who jumped out of her car and nearly killed him again with hugs.
 It was like a polished jewel and each item of furniture, ornament and utensil hit us like a shock of recognition from deep in our memories.
Leaving Barney in his sister's arms we crossed over into Donegal driving James up to see his brother Paul on Inishowen on the way back home. Paul had just completed renovating an original thatched farmhouse on the side of the road near the seaside village of Moville. He showed us 'before' pictures of the sadly neglected old place with the roof fallen in and as dilapidated as the many thousands of old homes that can be seen all over the country. As we spoke Paul was rendering the walls around the garden and this was almost the last job to be done. He brought us around the finished house and we all gasped as we stepped back in time through the half-door. It was like a polished jewel and each item of furniture, ornament and utensil hit us like a shock of recognition from deep in our memories. This was no museum but a faithfully restored gem of a house from another time, comfortable and welcoming yet with all the mod cons you would need in the 21st century. We congratulated Paul on his hard work and good taste and wished more people would restore such fine examples of our architectural heritage with loving care instead of leaving the old houses to rot while building alien mansions and bungalows nearby with no relation to our past or culture.
Back home in Downings the evening sun was still warm and we sat out on Pat's Patio enjoying the sun's rays after a long drive feeling very relaxed looking out across the estuary to Fanad and the Harry Blaney bridge. 'Jesus, John would you look at that?' I said and John had seen it at the same moment I had. We had been looking at it since we arrived without registering what it was (which was, perfectly obviously a bloody great big road bridge across the estuary right in front of us). Because of all the twists and turns in the path of the estuary the few house on this side of the peninsula were about the only place you could see the bridge clearly.
Last year Sean came with us to visit his home place in Sligo which was derelict now. He had very little time to spend then and he was coming back to meet the relations he missed the last time and to take part in a radio interview for RTE. We met Brian O'Connell the roving reporter for the channel on a quiet road somewhere between Roscommon and Sligo. Brian had travelled from Limerick that morning and was heading back to Cork after the interview. We decided it would be best to treat his microphone as if it was a fly on the wall and we all piled into our minibus and headed up into the mountains as Brian began to record us making casual conversation and observations as if the tape was switched off. Of course conversation was a bit strained at first but with the rough terrain and Sean's obvious nerves and excitement soon we were talking normally commenting on the state of the road and the remoteness of the countryside. After a few twists and turns we arrived in a farmyard and Sean's neighbour came out to meet us. The weather had been glorious for most of the week but here there was mud and puddles everywhere and we had no choice but to get out and walk the half mile or so to Sean's family home.
When the land was sold by Sean's mother to the forestry commission they planted trees all around the house and this rutted path from the neighbour's yard was the only way in. As we slowly picked our way there avoiding the mud and water as much as possible Sean kept up a monologue remarking on the surroundings and speaking freely as memories came flooding back a natural radio hi surroundings, he was a natural radio interviewee. When we reached the house Sean was beginning to get emotional as we hacked our way through the undergrowth surrounding the old homestead. The door was hanging off the hinges as it was on our last visit. We had bought a strong flashlight earlier in the day and we could peer into all the dark corners of Sean's life. The place was still remarkably intact and it was as if the family had left in a hurry, not able to pack everything as if the storm or the soldiers were getting dangerously close. A photo of Sean in blonde curls and school uniform lay on a mantelpiece; his mother's Sunday best shoes were in a cupboard, a book of Mass cards lay open on a table. There were old tools, fishing rods and a Tilly lamp in an outhouse. Patrick tried on a pair of wellingtons and although they weren't a pair and were both left feet they were better than trainers for the boggy road.
Standing in the doorway Sean said to the world via RTE, 'This is my last time in this place; I won't be coming back here again. I have my memories and that is all I need'. We closed the door as best we could and forced our way back out onto the mucky road Sean's memories still flooding through him as we climbed back into the minibus and drove down the rocky path to the main road. Brian thanked Sean patting the tape recorder slung over his shoulder and told us he would let us know the broadcast date. He jumped into his car pointed towards Cork and was gone. He had his story.
Down in the village we called in on Sean's aunt Mary and her two sons. With the coal mines and all of the ancillary industries gone from the Black Mountains there was very little work to be had but Sean's cousins had both managed to scratch a living for themselves in their home place. Both had tried emigration but had come back to be near home escaping Sean's tribulations in London. Brendan was gifted with motors and was on call by local farmers to drive machinery and haul livestock etc. and Tony had developed unique skills as a stained glass artist called in to do repair work and produce new windows throughout the country. Lately he has had to put his business on hold as he was getting into debt. Naturally most of his jobs came from the church and he was finding it impossible to get them to pay him for the work after he had invested a fortune importing special glass from around the world and putting in hours of painstaking work.
While we talked in the cosy kitchen Mary bustled about making several pots of tea. At one stage she had to go out and instructed Brendan to make more tea for us and a few sandwiches. I think she was going out to get even more tea and bread. Brendan started by spreading a sheet of fresh newspaper on the table and handed me the bread, butter and ham. 'You would be better at that than me' he said. I guess those of us who emigrated had to learn the skills to fend for ourselves, some of us anyway. As we were leaving I was astounded by the streams light flooding through coloured glass carved into an intricate Celtic design on the door. I hadn't seen it on the outside when we arrived but that's the way with stained glass.
Later after we had returned I was back in the pub in London where I met John again and he asked me had I made it over to Fanad on the trip and said that I had and told him of my very favourable impressions of the peninsula he was from. 'I suppose you went into the pub at Fanad Head, did you?' Had I promised to go into the pub at Fanad Head? I suppose I must have, better tell John I did then. 'Yes John, very nice it was too'. I lied. 'So who was it served you?' probed John, 'Was it a man or a woman?' 'Er, it was a woman'. 'Was she a stout woman?' he asked. 'No, not really', I didn't want to be passing comments on my imaginary barmaid. 'Young or old?' continued John. 'Middle aged'. 'That must have been Marie, and you say she's not stout?' he asked sceptically, 'did you mention my name then?' 'No John, I didn't think of it?' John turned to the rest of the pub, 'This feller was in my local pub back home and he didn't even mention my name!' Everyone turned towards me looking shocked, 'Tut, tut', I heard from the bar and much shaking of heads. 'Did you not notice all the post cards I had sent, stuck on the mirror up behind the bar?' Oh my god why did I tell him I had been in the fecking place at all? 'I must give Marie a call right now. I thought they had sold the ould place', said John reaching in his pocket for his mobile as I was disappearing out the door.